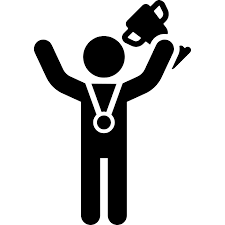 Winners Announced!
Congratulations to our five winners of the Membership Matters contest who have all won a FitBit or VISA gift card:
IADPO Members were encouraged to refer a potential new Member to IADPO, proudly display the IADPO logo on their website (learn how here) or sign up to be a mentor in their disease area. Thanks to all who participated.
---

Win a Fitbit or a Visa Gift Card — Deadline: March 31
As a kick-off to 2018, IADPO's members are invited to participate in our Membership Matters contest. You could win a Fitbit Alta HR (100 euros value) or Visa credit card (100 euros value). Five prizes will be awarded. To be automatically entered for your chance to win, complete at least one of the following steps by March 31.
You will get one entry for every referral or step that you do:
1. Refer us by email to your colleagues in other dermatology patient associations who would also benefit from our no-fee membership. To be eligible for the contest, send an email to your colleagues and copy our Membership Director, This email address is being protected from spambots. You need JavaScript enabled to view it. in your email message. You will receive one entry for each introduction you make (cut and paste from the sample provided below to send these invitations).
2. Sign-up to be a mentor or to indicate your interest in being mentored by logging into your profile, going to the Mentor tab and checking off your areas of interest. Send Shona a message to indicate you have completed this step.
3. Add our "Proud Member" logo to your website; available when you log into the Members Area. Send Shona your website hyperlink for verification.
Remember, to receive an entry for each step, you have until March 31 at midnight local time. When you have completed any of the above steps, be sure to send an email to This email address is being protected from spambots. You need JavaScript enabled to view it. for verification. Act now to win!
*Forgot your password? Request a new one at the log-in button at globalskin.org.
Sample Email introduction; cc This email address is being protected from spambots. You need JavaScript enabled to view it.
Dear <insert Colleague's name>,
Our organization is a member of the International Alliance of Dermatology Patient Organizations (IADPO) and I believe that your group could find value in joining us. Because dermatological conditions all are not well understood and are generally not considered to be that important, it is critical that we as patient organizations work together to provide a unified voice to those with power to make decisions on behalf of the patients we serve. We also know that there is much we can learn from one another, or resources that can be shared, because people living with dermatological diseases share some important challenges. IADPO is also engaging in a ground –breaking study (GRIDD) on the impact of dermatological diseases, from the patient perspective. Your group's involvement in IADPO ensures that data will be gathered in your country/region for your disease!
There is no cost to joining and other benefits include educational sessions both on-line and during conferences, networking with the other dermatology patient leaders. I hope you can join us as we build a global movement of dermatology patients.
You can contact me with any questions.
Check out the network of members here: https://globalskin.org/links
You can sign up by completing this form: https://globalskin.org/membership/apply-for-membership
I have copied Shona Fleming, IADPO's Membership Director, as she can help you with more details about our global skin alliance.