Global Research on Impact of Dermatological Diseases (GRIDD)

There has been a surge of interest for injecting the patient and caregiver voice into key decisions by health authorities around the globe. Being able to present decision-makers with validated information in the language they prefer — data, which truly comes from the patients, by the patients — therefore provides the best hope for adding the full-lived impact of dermatological diseases on the whole person and their family into the ranking criteria, and ensuring that people living with dermatological conditions gain access to treatments that can improve their lives.
Research funding and patient access to care and treatment are influenced by the poor understanding of the impact of dermatological diseases which ultimately affects ranking scales like the DALY1. The decision-making environment is fortunately changing, and the patient voice is being sought. Therefore, dermatology patient leaders from around the world have come together to address this problem.
The Global Research on the Impact of Dermatological Diseases (GRIDD) project aims to measure global disease burden across a wide spectrum of dermatological diseases by developing and using a new innovative measurement instrument. This instrument is derived through a novel methodology called Global Research of Impact on Patients (GRIP), where the questions themselves have been derived from and co-designed directly with patients living with dermatological diseases. a This ground-breaking global research project, has a multi-year, multi-site and multi-disease focus.
The International Alliance of Dermatology Patient Organizations (IADPO) is actively planning GRIDD with a research team lead by renowned Patient Reported Outcomes Measures (PROMs) researcher, Professor Dr. Matthias Augustin, Director, Institute of Health Care Research in Dermatology and Nursing, University of Hamburg, along with Dr. Chris Bundy, Cardiff University, Healthcare Sciences (pictured to the right).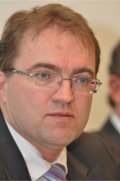 "IADPO's ground-breaking patient-led research will create greater understanding and
respect for dermatological conditions around the world.
I am proud to work on this patient-initiated and patient-driven initiative."
Dr. Matthias Augustin, Director
Institute of Health Care Research in Dermatology
University of Hamburg
With a better understanding about what its truly like to live with dermatological conditions worldwide, IADPO's key goals are to influence changes at the World Health Organization, as well as to create tools to help member organizations advocate for improved access to treatment and care locally. GRIDD will create a rising tide for all stakeholders by producing credible, scientifically-validated, patient- initiated data that can be used to raise the profile of dermatology.
Get involved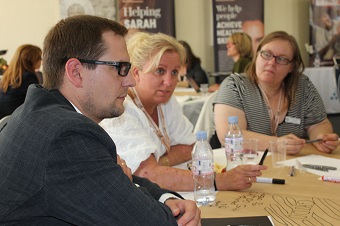 GRIDD will create greater understanding of and respect for dermatological conditions. It will be a key tool to initiate changes to DALY and help improve access to care and treatment for patients at the country or regional level. GRIDD will produce credible, scientifically validated data, which is expected to be used to raise the profile of dermatology.
Getting involved with the GRIDD research initiative is an excellent opportunity to demonstrate your commitment to patient-centric research.
Learn more about how you can participate in this game-changing research initiative by contacting Executive Director Jennifer Austin.
Help lead the change!

We gratefully acknowledge the support of our
Healthcare Industry Partners for the GRIDD project:

1 Disability-Adjusted Life Year (World Health Organization). Metric that combines the burden of mortality and morbidity (non-fatal health problems) into a single number.