Purpose

Volunteer members of the GRIDD Scientific Advisory Board for the International Alliance of Dermatology Patient Organizations serve in an advisory capacity to oversee and corroborate the integrity of the research, and its use in advocacy and education. They are a multi-disciplinary group of experts that include clinicians, researchers, educators and a patient leader from IADPO's membership.
Current Research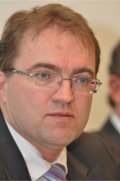 Prof. Dr. Matthias AugustinThe lead researcher for the current IADPO patient-led study, GRIDD (Global Research on Impact of Dermatological Disease), is Dr. Matthias Augustin, from the Institute of Health Care Research in Dermatology and Nursing at the University of Hamburg, Germany.
GRIDD is gaining attention as a groundbreaking global patient-initiated research project, with a multi-year, multi-site and multi-disease scope. GRIDD will produce credible, scientifically validated data to create greater understanding of and respect for dermatological conditions. It will be a key tool to initiate changes to the WHO's DALY1 globally and help improve access to care and treatment for patients at the country or regional level.
Working with patient leaders, IADPO will create a Global Research of Impact on Patients (GRIP) tool. It will allow patients living with dermatological diseases to co-create questions from their unique perspective for a research instrument that will allow them to FULLY describe the impact of disease on them and their family members. This tool will be tested and used in the realm of Dermatological diseases first, with a view that if successful, can be expanded to validate Patient-reported Impact Measures (PRIMs).
Committee Schedule
The Scientific Committee's meeting timetable will begin in January 2017 with the following expectations:
Occasional pre-meeting review/ preparation/ reading and meeting follow-up / actions, estimated at 5 hours per meeting
Collaboration frequency and method:


quarterly, as determined by the Lead Researcher in consultation with the Scientific Advisory Board
via phone or teleconference for 1.5 – 2 hours
twice annually, in-person during the AAD and EADV, as feasible


3-hour meeting / meal
3-hour reception; possible speaking role
Additional voluntary subcommittee work may be developed, as needs are defined.
More Information
Additional research details are posted on our website. For more information about our research or committee, contact This email address is being protected from spambots. You need JavaScript enabled to view it..
________________________
1 Disability-Adjusted Life Year (World Health Organization). Metric that combines the burden of mortality and morbidity (non-fatal health problems) into a single number.