GlobalSkin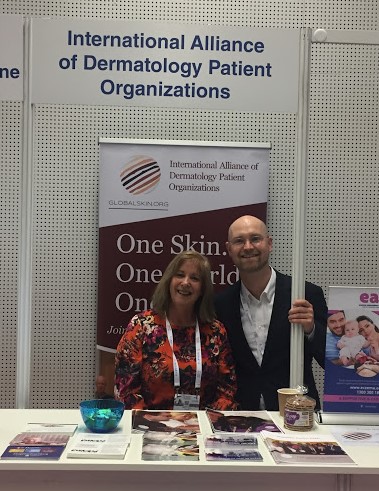 Board Members Jean-Marie Meurant, David McMahon and Cheryl Talent, CEO Christine Janus, and GlobalSkin staff attended the European Academy of Dermatology and Venereology (EADV) Congress in Paris last month. This was our busiest EADV Congress yet where significant strides were made as the dermatology community has gotten to know GlobalSkin and sees our organization and members as the professionals we are.
This year we worked with the EADV to improve the Patient Organization experience within the Patient Village at the Congress and we successfully negotiated for Patient Leaders to gain access to the scientific sessions during the Congress – an amazing first!
And another first…GlobalSkin was invited to the EADV President's Dinner where the importance of the involvement of patients was endorsed by the EADV president during his speech.
We collaborated with the EADV on a joint scientific session "Supporting your patients beyond skin – the psychosocial impacts of dermatological diseases". Not only was the session well attended, informative and provided for an opportunity for table discussions amongst participants but it was also attended by the President of the EADV who spontaneously rose to speak about the importance of the session and patient organization involvement in the EADV.
In keeping with this overall theme, GlobalSkin also participated in a very productive formal meeting between the EADV's Patient Working Group and Nurse Working Group to explore ways to collaborate and put the spotlight on patient's needs. The EADV's President was also in attendance.
Along with a GRIDD Stakeholder Meeting with lead researcher Prof. Dr. Matthias Augustin from the University of Hamburg presenting on the latest accomplishments in our patient-driven research project, we also hosted our Skin Matters Reception for patient leaders, stakeholders and representatives from the EADV and ILDS.
EADV 2018 was an inflection point for our organization – where GlobalSkin's progress jumped from steady to significant on behalf of its global patient organization community!
View our two Flickr albums from the EADV!
Photos from the Reception, village and more.