IADPO Research Director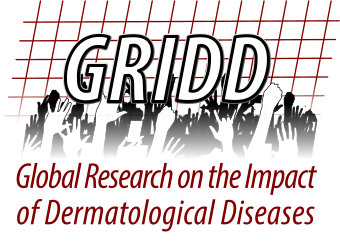 GlobalSkin is pleased to introduce Deirdre Laframboise as our new Research Director. Deirdre's main focus in 2020 will be working actively to involve our patient organization members in the Global Research on the Impact of Dermatological Diseases (GRIDD) project. GRIDD will help every patient organization by proving a new measure to gather valuable data that in turn can support many needs including fundraising, advocacy campaigns, communications, and ultimately influence better public policy for dermatology and treatment for its patients.
Coming Soon: GRIDD 101 Overivew Video
What's in it for you? Why get involved?
GlobalSkin staff and the GRIDD research team are creating a dynamic short video of the GRIDD project that will review each of the five phases, main activities, and expected outcomes. 2020 will see the ending of Phase 2 and the launch into Phase 3 - the development of a new PRIDD (Patient Reported Impact Dermatological Diseases) measurement tool. There is much to be undertaken before this new measurement tool is ready for distribution to patients around the world in Phase 4 and this dynamic video will help explain those steps.
This presentation will be available to all on the GlobalSkin website in early summer 2020. Stay tuned!
GRIDD Webinar Series
How does it all work? How does it all fit together to give us a credible and believable voice for our patients? A GRIDD webinar series for Members is coming – and designed based on your needs. This five-part series will cover all phases of the GRIDD project. The first GRIDD webinar was held December 2019 and can be found in our Members e-Learning section.
All webinars are recorded and will be available for future viewing.
GRIDD Phase 2 / Stage 2 (Patient Interviews)
The GRIDD workshop we conducted with patient leaders in June 2019 in Milan provided a wealth of issues which are being used to build the new PRIDD (Patient Reported Impact of Dermatological Disease) measurement tool. However, the research team (co-led by distinguished experts from Cardiff and Hamburg Universities) discovered we need more patient information from some of the more common diseases (acne, alopecia, vitiligo, psoriasis, atopic eczema), and from certain geographical regions. As a result, the GRIDD team chose to add more primary research that will involve patient interviews in Africa, Europe, Asia, South America, Australia, Israel, Cuba and the USA. This will take place in spring 2020 via video/phone interviews.
As we move into the next Phases there will be more news to share so please watch for our IADPO e-Newsletter, and other updates by visiting Members e-Learning.
For more information please feel free to contact This email address is being protected from spambots. You need JavaScript enabled to view it..