The Global Research on the Impact of Dermatological Diseases (GRIDD) project is progressing well. This patient-initiated research project, which will measure the true impact of skin diseases from the patient perspective, is currently in Phase 2 of 5. The project is led by Prof. Dr. Matthias Augustin, Hamburg University and Prof. Chris Bundy, Cardiff University and their teams of dedicated researchers.

A milestone event took place during the European Academy of Dermatology and Venereology (EADV) Congress this past October where our researchers presented the findings of the systematic literature review (phase 1 of the project). Rachael Pattison, Cardiff University and Nirohshah Trialonis-Suthakharan, University Medical Center Hamburg-Eppendorf reported the results of the systematic literature review revealing this major finding: Based on the gold standard criteria, no dermatology-specific, patient-reported measure can be recommended for use. This conclusion proves there is a verifiable need to develop a new dermatology-specific measure for patients by patients. These findings have been submitted as a manuscript to a prominent dermatology journal.
GlobalSkin and the GRIDD research team met during the American Academy of Dermatology Annual Meeting in March and most recently at during the EADV Congress in October with the GRIDD Scientific Advisory Committee. This impressive group provides guidance and offers support for the project based on their many years of experience in dermatology research. We thank them all for their dedication to this project.
Phase 2 of the GRIDD project can be best explained by the graphic below. The graphic outlines the process of collecting qualitative information (information that describes people's opinions and feelings). One round of focus group discussions is complete with another around planned for early-2020. The information gathered will then form the "items" or issues that will become the focus of the GRIDD questionnaire. We expect Phase 2 to conclude in the first half of 2020.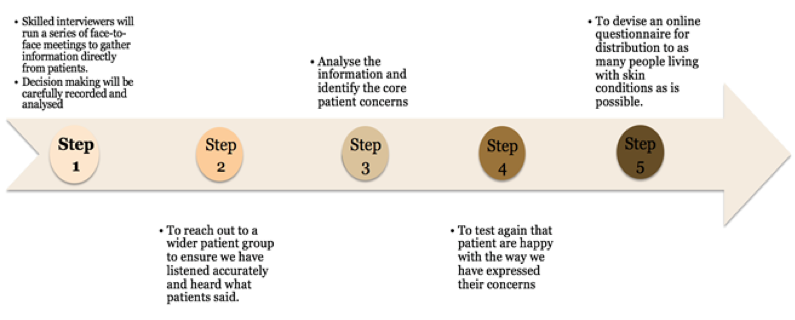 If you are looking for more information about GRIDD, a presentation on the GRIDD project was made in June during the GlobalSkin 2019 Conference in Milan and recorded. GlobalSkin Members can now view that video recording and become further acquainted with the project and what it will mean for patients in your disease area. Follow this link to watch the video.
We are also pleased to announce that we will host a GRIDD e-Learning series in 2020. There will be approximately three sessions throughout the year for the purpose of informing, engaging and collaborating with Members regarding this important patient-led research project and how they can get their patients involved.