The International Alliance of Dermatology Patient Organizations (also known as GlobalSkin) is now accepting applications from Member representatives to stand for election for the 2020 Board of Directors and looking for new Volunteers for Board Committees. GlobalSkin Members have a wealth of experience and skills that are essential in contributing to the growth and prosperity of our Alliance and we look forward to your contribution. Read more about the opportunities available, election process and how to apply below.
GlobalSkin Board of Directors
Do you have a passion for providing strong support to skin patients, understand a Board's oversight role and have direct experience participating in events and initiatives led by GlobalSkin?
If so, then YOU can help build a better future for dermatology patients around the world! We are now accepting applications from representatives of full member organizations who are interested in being part of the Board of Directors.
We foster diversity on our Board with no more than two members from each region and disease area, including organizations representing international geography and all skin diseases. Two seats are up for election in 2020. Previously elected Board Directors occupy the other seven seats, including two Directors from the Americas, two that represent International geography and two that serve patients with Albinism. Thus, candidates from the Americas, candidates whose organizations represent International geography, and candidates who serve patients with Albinism are therefore not being sought in this year's election.
Your Role as a Board Director
As an elected Board Director, you will help advance the development of the organization and grow the GlobalSkin movement. Your role will directly contribute to setting strategic direction and provide oversight as we work to improve the lives of those affected by dermatological conditions around the world through research, advocacy and support.
GlobalSkin Board Directors contribute their time and energy to our movement and are responsible for providing quality advice during their tenure. In doing so, they benefit directly from this prestigious professional development opportunity.
Board Directors act in the best interests of GlobalSkin as a whole; act independently in a personal capacity and not as the representative of any other group; undertake not to improperly use their position to gain an advantage for themselves or someone else, or cause detriment or a loss of opportunity to GlobalSkin, and keep confidential all matters related to the affairs of GlobalSkin which are not public knowledge.
Board Directors are elected by members for a three-year term and may serve up to a maximum of five consecutive terms (assuming they are re-elected following the conclusion of each term).
Desired Skills and Background
GlobalSkin is committed to representing skin patients worldwide by promoting diversity on our board. We do this by allowing no more than two members from each world region and disease area including organizations representing international geography and all skin diseases. For our 2020 election (September 30 – October 7), we are seeking two board directors who:
Represent our full member organizations that support skin patients.
Demonstrate a passion for representing skin patients and/or skin patient organizations.
Understand a Board's role of overseeing the work of the GlobalSkin team and setting strategic objectives.
Have previous experience sitting on or working with a Board of Directors, including a solid understanding of board governance.
Have a good understanding of GlobalSkin and its mission through direct experience participating in our events and/or initiatives.
What's In It for You and Your Patient Organization?
You will gain expertise as a board member in a global organization
You will develop new skills and experience, as well as insights into global issues that can affect the patients you serve nationally or regionally
You will participate in international events and meetings
You and your organization will make connections with patient leaders and other dermatology stakeholders in other countries
You will help raise the profile and reputation of your organization.
Click here to view the Terms of Reference for GlobalSkin's Board of Directors.
Eligible seats for the 2020 Board Election
We foster diversity on our Board with no more than two members from each region and disease area including organizations representing international geography and all skin diseases. For 2020, we are seeking two new board members with the open number of board seats by geographic region and skin disease area shown in the tables below and the notes to follow: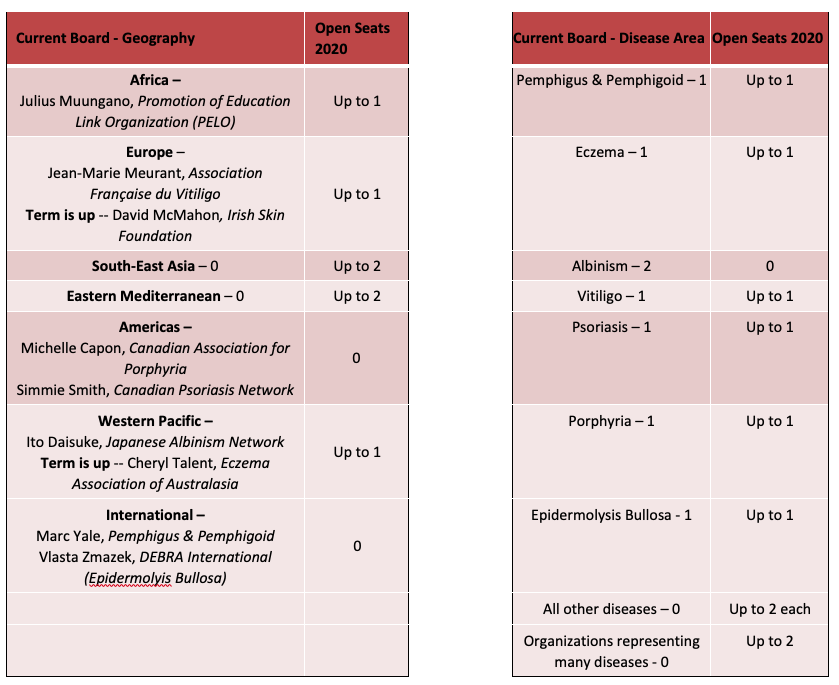 About GlobalSkin's 2020 Election Process
Every year GlobalSkin holds an election to fill empty seats on its Board of Directors. Any member with full status is welcome to submit an application to become a Board Director to fill any upcoming empty seats on the board. This Board Director election process consists of three phases:
Application period
Candidate Campaign
Election and Results
Application Period:
Full status member submits a Board of Director application.

Application form confirms eligibility and asks the candidate questions about motivations and qualifications to serve on GlobalSkin Board of Directors.

Application is reviewed by Nominations Committee.
Applicant is informed as to whether they have been accepted as a Board of Director candidate.
Candidate Campaign:
Candidate profile is created shared on the GlobalSkin website.
Candidate actively campaigns on GlobalSkin Workplace and through any other platforms.
Candidate is introduced at the GlobalSkin Annual General Meeting (AGM).
Election and Results:
Online election of new Board Directors begins at the close of the AGM.
GlobalSkin members will enter their votes for desired candidates through Simply Voting—an online platform.
Voting will take place for a one-week period.
After the voting period ends, votes will be tabulated.
Newly elected Board Directors will be notified and then announced on the GlobalSkin website.
For 2020, the election process begins in June and concludes in October; it proceeds as follows:

Nomination Application period begins: June 22, 2020
Nomination Application deadline: September 11, 2020
Candidates notified of eligibility: September 18 - 23, 2020
Campaign Period: September 24 – October 7, 2020
Candidates Profiled at AGM: September 30, 2020
Online Election: September 30 – October 7, 2020
New Board Directors Announced: October 21, 2020
GlobalSkin Board Committee Volunteers
Volunteers are the true strength of all not-for-profit organizations and GlobalSkin is certainly no exception. As a volunteer, you have an opportunity to contribute to the growth of our organization and help build a better future for dermatology patients around the world!
We are now seeking volunteers for member-at-large positions on several Board Committees: Nominations Committee, Membership Committee, Governance Committee, Finance Committee and Conference Committees. To view specific Committee duties, requirements and responsibilities, please see the links to each Committee's Terms of References.
Interested individuals are invited to complete this form (see button below) by September 11, 2020, at 5:59 pm EST (23:59 CET) at which time the submission period will close.
As a Committee Member, you will work directly with Board Directors to build a stronger voice for skin patients. You will also have the opportunity to gain new perspectives, grow your professional network and develop new skills – all of which will help you and your own organization. All those who have submitted a form will be informed about committee member-at-large positions by September 18, 2020.
Key dates:
Committee Volunteer Submission period begins June 22, 2020
Committee Volunteer Submission deadline: September 11, 2020
Committee Volunteers Notified: September 18 – 23, 2020
Committees Profiled: September 30, 2020
Contact
If you have any questions about the application process, please contact us at This email address is being protected from spambots. You need JavaScript enabled to view it.