The International Alliance of Dermatology Patient Organizations (also known as GlobalSkin) is now accepting applications from Member representatives to stand for election for the Board of Directors. GlobalSkin Members have a wealth of experience and skills that are essential in contributing to the growth and prosperity of our Alliance and we look forward to your contribution.
Do you have a passion for providing strong support to skin patients, understand a Board's oversight role and have direct experience participating in events and initiatives led by GlobalSkin? If so, then YOU can help build a better future for dermatology patients around the world!
Read more about the opportunity available, the election process and how to apply below.
Your Role as a Board Director
As an elected Board Director, you will help advance the development of the organization and grow the GlobalSkin movement. Your role will directly contribute to setting strategic direction and providing oversight as we work to improve the lives of those affected by dermatological conditions around the world through research, advocacy and support.
GlobalSkin Board Directors contribute their time and energy to our movement and are responsible for providing quality advice during their tenure. In doing so, they benefit directly from this prestigious professional development opportunity.
Board Directors act in the best interests of GlobalSkin as a whole, act independently in a personal capacity and not as the representative of any other group and maintain confidentiality.
Board Directors are elected by Members for a three-year term and may serve up to a maximum of three consecutive terms (if they are re-elected following the conclusion of each term).
Desired Skills and Background
We seek individuals who:
Represent our full Member organizations that support dermatology patients
Demonstrate a passion for representing dermatology patients and/or dermatology patient organizations
Understand a Board's role of overseeing the work of the GlobalSkin team and setting strategic objectives
Have previous experience sitting on or working with a Board of Directors, including a solid understanding of board governance
Have a good understanding of GlobalSkin and its mission through direct experience participating in our events and/or initiatives
GlobalSkin's Board Meetings take place in English. Candidates will need to understand written and spoken English.
What's In It for You and Your Patient Organization?
You will gain expertise as a board director in a global organization
You will develop new skills and experience, as well as insights into global issues that can affect the patients you serve nationally or regionally
You will participate in international events and meetings
You and your organization will make connections with patient leaders and other dermatology stakeholders in other countries
You will help to raise the profile and reputation of your organization
Click here to view the Terms of Reference for GlobalSkin's Board of Directors.
Eligible Seats for the 2022 Board Election
To foster diversity on our Board, GlobalSkin allows a maximum of two directors per region and disease area to serve at the same time. In 2022, five positions are open and may be filled by individuals representing Full Member organizations from any region or any single disease area, up to the maximum number as shown in the charts below. Only those Members whose organizations represent more than one disease area are not eligible to apply in 2022.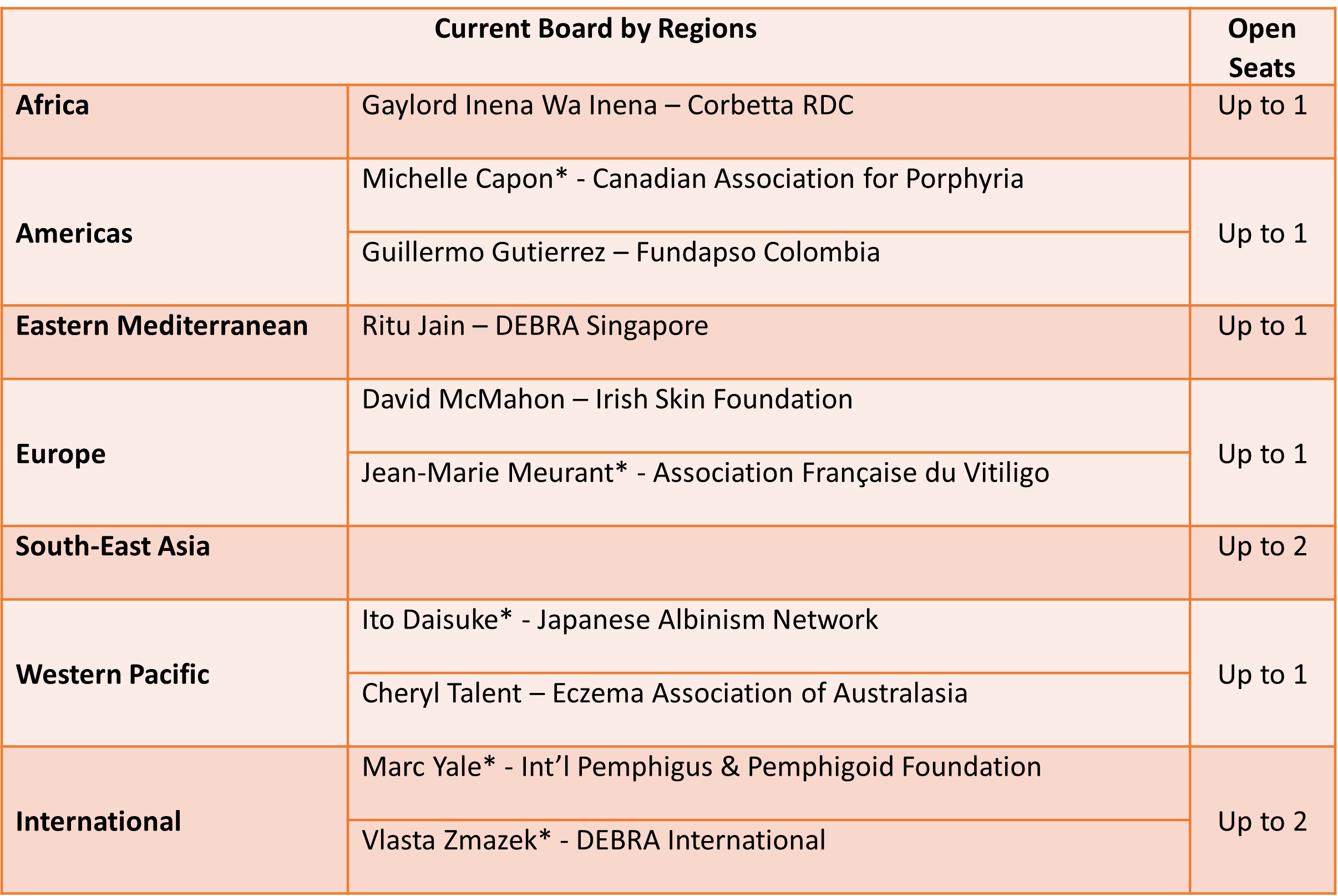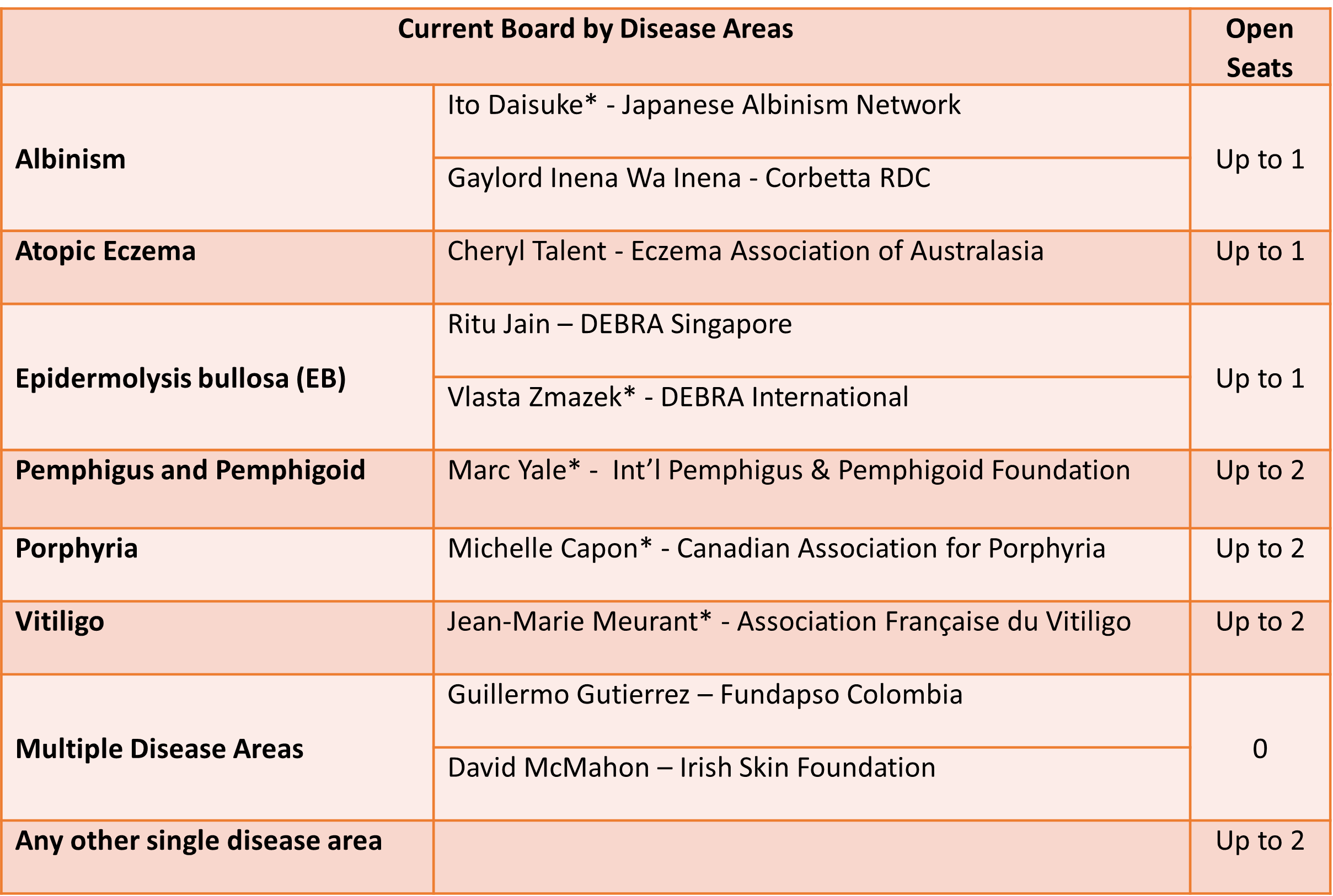 GlobalSkin's 2022 Election Process
Application Period – May 2 - 31
(The Application Period has now ended - thank you to all candidates that have put their name forward to stand for election)


Election Period – June 15 - 22 - Board Election now OPEN. View Candidate Profiles Here.


Results Announced – June 22 at the Annual General Meeting