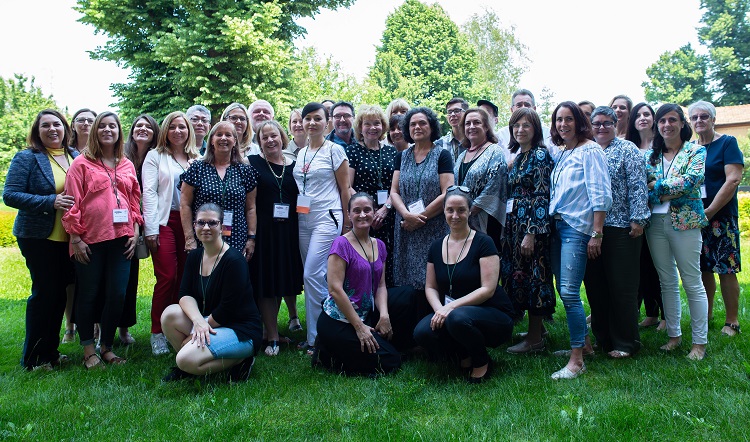 Patient organizations that serve people living with Atopic Eczema provide essential services, support, access to information, opportunities to link with other patients and speak up for access to care and treatment. This is a disease where patient organizations are currently under-resourced and not well connected to each other, and as such, GlobalSkin began working with this broader community in 2018 to significantly and measurably improve linkages for patient organization leaders, capacity building and coordination of a synchronized strategic approach to improve access to care, critical information and treatment options for patients.
In 2019, GlobalSkin continued to galvanize the global Atopic Eczema Community by hosting a Forum on June 5-6th, 2019 in Milan geared toward patient organization leaders. Read more about the two-day event here. Since Milan, we have been actively working on a variety of follow-up activities including an outcomes report; the formation of an advisory committee of patient organizations to complete the next steps involving strategic planning, and the set up of an online collaboration tool for the patient leaders. We will keep the Community posted as progress continues to be made.


---
Atopic Eczema Community's 3-Year Plan
GlobalSkin is pleased to share our finalized Three-Year Atopic Eczema Community Strategic Plan. This plan is the result of input from across our membership including our Atopic Eczema Community Advisory Committee, the IADPO Executive Committee and the Atopic Eczema Community at large.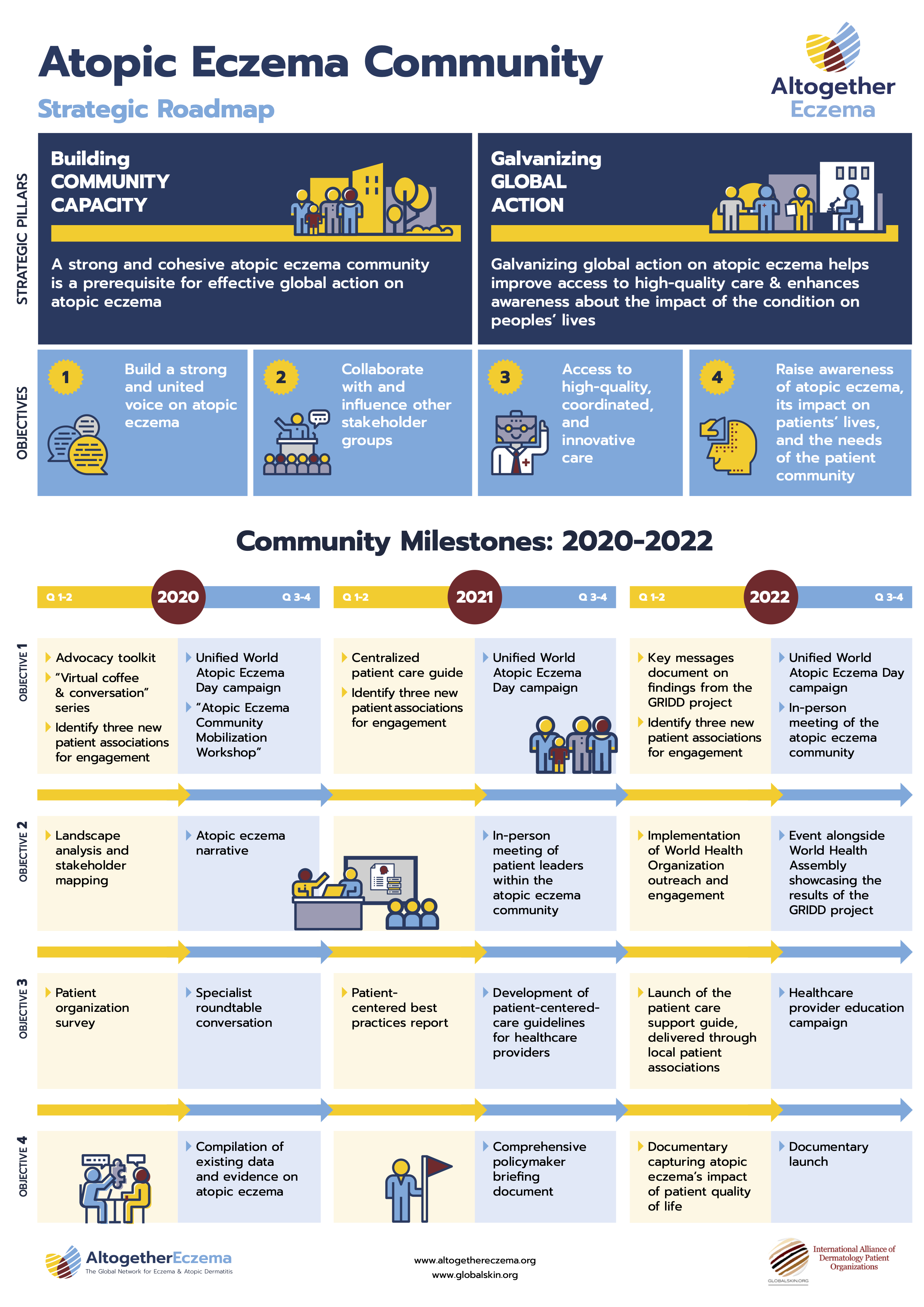 ---

World Atopic Eczema Day 2020
The World Atopic Eczema Day 2020 Campaign Report is now available – read about the third annual World Atopic Eczema Day! This year's campaign focused on patients and families and asked the question "How do YOU care for atopic eczema?". Everyone who is affected by atopic eczema was invited to share their experiences, some of which were stories of joy and support, but also included those of suffering and compassion.
The 14th of September marks World Atopic Eczema Day, and every year we will continue to organize, advocate, and connect with patients to share their stories to raise awareness for Atopic Eczema. Learn about the 2020 campaign and download all your campaign tools here.
In 2019, we looked beneath the surface of atopic eczema and its impacts on life. A Communications Toolkit was developed as well as the launch of a Funding Program to financially assist GlobalSkin Member organizations in the planning of events or creation of materials to help raise awareness on this important day. Read more about the 2019 World Atopic Eczema Campaign and the 2019 World Atopic Eczema Day Report.
Projects in 2018 included the launch of AltogetherEczema.org, World Atopic Eczema Day and the release of a co-sponsored report on atopic dermatitis with the Economist Intelligence Unit. The lessons we are learning from this community building will be very helpful as we begin to build more disease- and region-specific communities.

AltogetherEczema
GlobalSkin has created an online platform for the Atopic Eczema community (AltogetherEczema.org), where patients with eczema and atopic dermatitis, caregivers and patient leaders can connect and find resources pertaining to their disease. The platform encourages visitors to take a short survey that aims to find out what it is really like to live with atopic eczema. The data will be used to help spark an international conversation on living with this skin disease and help to connect people who are suffering. Visitors can hear and share stories and discuss ways in which living with eczema and atopic dermatitis can be improved. A patient organization directory is also available that can provide patients with further support in their region. Visitors have already completed over 4,200 sessions on the site.
Visit our global Atopic Eczema community today!
World Atopic Eczema Day 2018
What is it really like living with atopic eczema? On September 14, 2018, IADPO brought voice to patients and their caregivers by asking them that question in an online questionnaire on our new interactive online community AltogetherEczema. Working with patient associations around the world, IAPDO helped to help spark an international conversation focused on issues related to living with this disease ─ all with a view to bringing about positive change.
For a summary of Twitter discussions that took place that day, click here.
Atopic Dermatitis (AD) Report
GlobalSkin co-sponsored an atopic dermatitis report with Pfizer which was published by The Economist Intelligence Unit on October 4, 2018. A misunderstood skin disease: Mapping the policy response to atopic dermatitis, analyses the healthcare system approaches to the management of AD by assessing 12 indicators across eight countries.
The release of this publication was marked by a live webinar which featured a panel discussion that included our CEO, Christine Janus. Read the news release and link to the report and watch the recorded webinar here.
Position Papers
Policy Drivers in Atopic Eczema: Patient Leader Dialogue Report, November 2018
Atopic Dermatitis: A Collective Global Voice for Improving Care, February 2018
GlobalSkin is grateful to its 2020 partners on this community-building initiative.