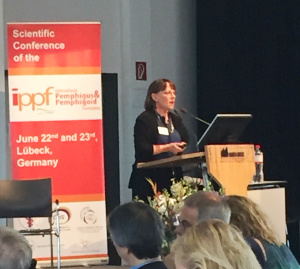 IADPO's CEO Christine Janus was invited to speak at the Fourth Scientific Conference of the International Pemphigus & Pemphigoid Foundation on June 22, 2017. Over 200 dermatologists, clinical and primary researchers, patient leaders and patients gathered in the historic Hanseatic city of Lübeck, Germany.
Christine gave a unique presentation about the Global Research on the Impact of Dermatological Diseases (GRIDD) project which was met with great enthusiasm. She was approached by many dermatologists and researchers keen to learn more, to connect us with patient organizations in their cities and to assist in putting the research instruments into the hands of their patients.
Pemphigus and Pemphigoid are relatively rare diseases and these top researchers and dermatologists saw a real need to assist in elevating the importance of dermatology. We all have so much in common!