Members of the IADPO team and Board represented dermatology patient organizations at the Annual Meeting of the American Academy of Dermatology (AAD) in Orlando, Florida earlier this month. This was an important opportunity for IADPO to spread the word about how we are working globally with our member organizations to raise awareness on the impact of skin diseases and advocate for greater access to care and treatment.
IADPO held meetings with over 20 key stakeholder organizations including patient associations, industry, and health professionals.
IADPO and the Coalition of Skin Diseases (CSD) co-hosted a Skin Matters Reception on the Saturday evening.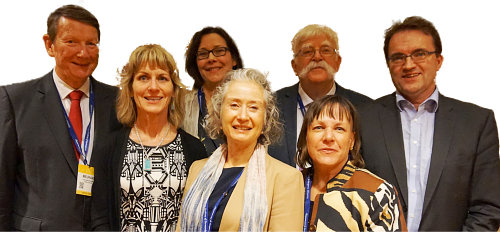 (left to right: back row) Jean-Marie Meurant, Jennifer Austin, Bill McCue, Prof. Dr. Matthias Augustin. (left to right, front row) Shona Fleming, Susan Thornton, Christine Janus.
IADPO president, and Association Française du Vitiligo (AFV) president, Jean-Marie Meurant formally welcomed everyone, followed by Marc Yale of the International Pemphigus & Pemphigoid Foundation (IPPF), who is both a CSD member and an IADPO member, who spoke on behalf of CSD and encouraged all to join the GlobalSkin movement.
Special guests included our lead GRIDD researcher, Professor Dr. Matthias Augustin (University of Hamburg, Germany) and leaders of professional organizations and industry. We were pleased to welcome 30 attendees from member organizations, the Dermatology Nurses Association (DNA), the International Federation for Psoriasis Patients (IFPA), the American Academy of Dermatology (AAD) and several key sponsors including LEO Pharma and GSK.
The following evening, the IADPO team's Orlando rental home provided a ready location for an informal dinner with the leaders of skin patient organizations attending the AAD. This allowed us to connect with some of our new members and initiate discussions to engage new ones.
With a collective experience of over 125 years in the room, patient leaders engaged in some great information sharing and mentoring. Topics included funds development, staff recruitment and leveraging social media.
Throughout the AAD, new connections were also made through outreach and discussions in the Exhibitors' Hall.