It is an exciting time for the Global Research on the Impact of Dermatological Diseases (GRIDD) project as we now have an approved Patient-Reported Impact of Dermatological Diseases (PRIDD) measure!  After five years of research and analysis, we are thrilled that the 16-question PRIDD measure is now complete.    
 
We are truly grateful to you, our Members (and your patient communities), for being involved for so many years. We are very proud that PRIDD was developed in partnership with 2,490 patients representing 90 conditions from 61 countries. None of this would have been possible without your commitment and unwavering support!
What's Next?  
We are now preparing for the global GRIDD Study, the collection of patient data using the new impact measure that will take place in 2023. To prepare for the Study, PRIDD will be translated, validated, and culturally adapted so that it is available to patients in 17 languages to collect their impact data. The GRIDD Study will be launched in June 2023, and it is our intention to include 10,000 participants.  
 
As you know, by sharing their experiences through our study, your patients will be helping to show clinicians, researchers, and policymakers the true impact of living with your dermatological condition. The data collected will help to confirm the need for improved care, better treatment options, and more affordable medicine for dermatology patients globally. 

Our Members will be crucial to the success of this research study. With this in mind, we are creating resources and tools to assist in patient recruitment. We know you share our enthusiasm in seeing this essential study come to life after so many years of effort, and we look forward to sharing more information with you in the coming months.   

We are excited to also share that the GRIDD Project has been published for a second time in ActaDV Journal. This publication is about Phase 2: A Qualitative Concept Elicitation Study. Please see the link to the paper here.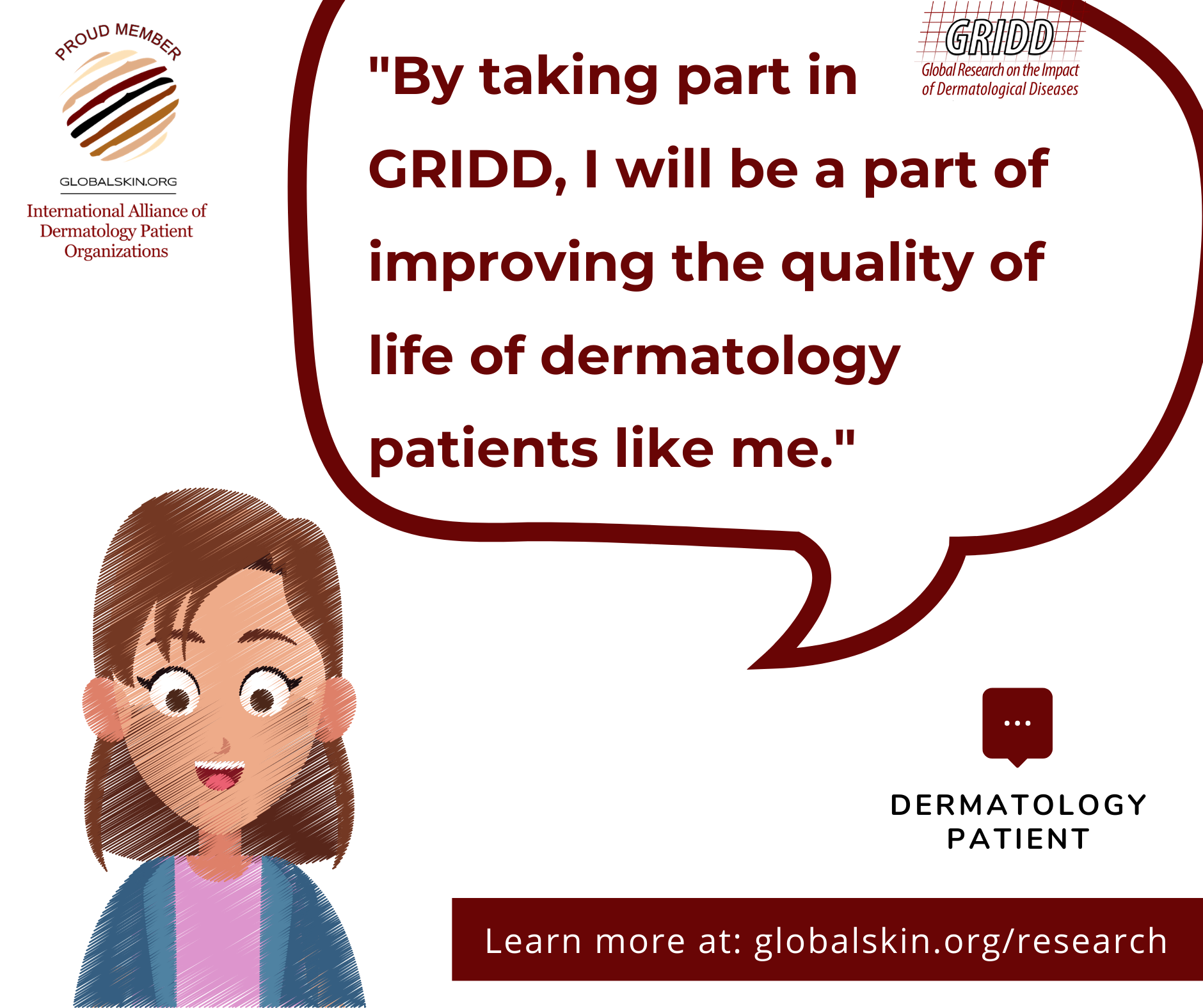 Why should your patient community participate in the GRIDD Study?
The benefits to your patient organization include:
Your organization will have data insights specifc to your disease area in your region, this will increase your credibility when you take on advocacy activites with policy makers and payers
Your organization will have credible data points that can help to raise awareness for your diesease in the media
You can increase fundraising by having data to show the impact on your dermatology patient community
To learn more, please watch the GRIDD presentation on our YouTube Channel. GlobalSkin hosted a webinar to help explain the psychometric testing in more detail - watch the recording here.
Together, we will strengthen the voice of patients through data!
Why GRIDD Matters?
Participants who take the survey will be helping to measure, validate and confirm the very real and difficult challenges faced by dermatology patients.
The data we collect will empower our community with disease impact evidence that will help us advocate for improved care, better treatment options, and more affordable medicines.
Watch the Patient Testimonial Video to learn Why GRIDD Matters!