February 4, 2022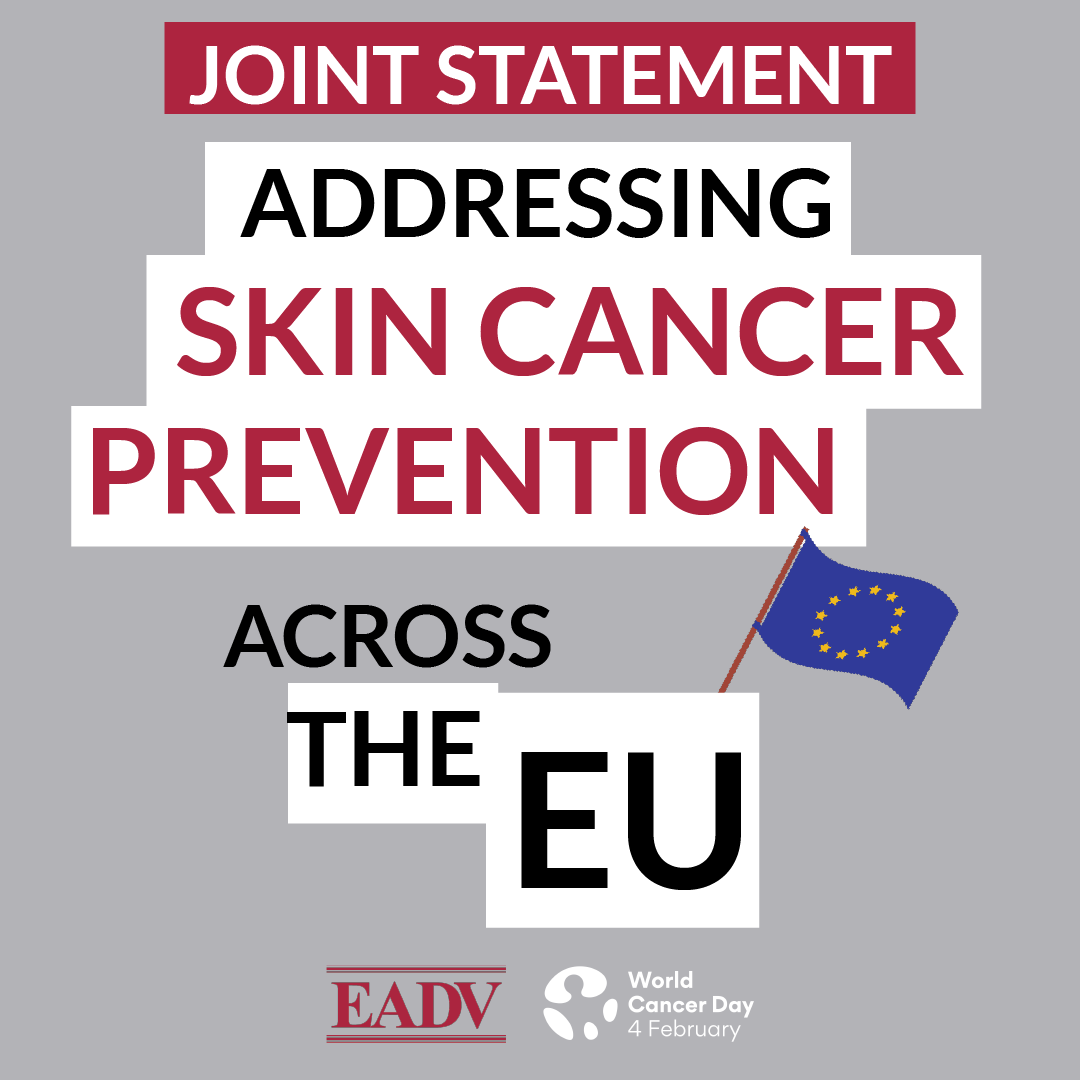 The International Alliance of Dermatology Patient Organizations (GlobalSkin) is proud to be a signatory to the EADV Joint Statement on skin cancer prevention in the context of the European Union's Beating Cancer Plan.
Skin cancer1 is among the most common and burdensome types of cancers in the European Union. In 2020, over 106.000 EU citizens were diagnosed with melanoma2, making it the sixth most frequently occurring cancer and one of the twenty most frequent causes of cancer death3. Keratinocyte Carcinomas4 (which include basal cell and squamous cell carcinomas) are by far the most widespread of all cancers and whilst not life-threatening in most cases, can significantly impact a patient's quality of life5. It is of major concern that Keratinocyte Carcinomas are the most rapidly increasing cancers, with incidence expected to continue rising (by over 40% until 2040)6, presenting a tremendous challenge to health systems. This does not have to be the case, as skin cancer is part of the 40 percent of cancers that are preventable7 and whose incidence would be considerably reduced if more conscious and responsible behaviours were adopted.
On World Skin Cancer Day, GlobalSkin joins together with 56 other organisations representing dermatology, oncology and other healthcare professionals, public health experts, patients, trade unions as well as three Members of the European Parliament, to call for more policy measures to tackle skin cancer prevention:
Improve education and awareness about skin cancer
Protect citizens from excessive exposure to UV radiation
Recognise skin cancer as an occupational disease
Improve registration of cases
Improve early detection of skin cancer in high-risk groups
GlobalSkin believes through education and awareness, prevention measures and a focus on early detection, we can help to protect people of all ages and lessen the strain on healthcare systems.
Europe's Beating Cancer Plan is an important opportunity to join forces towards developing an adequate EU policy and regulatory framework to address skin cancer. With a view to improving skin cancer prevention across Europe, GlobalSkin and the other signatory organisations call on the European Commission to act on these measures.
Read the statement: bit.ly/EADVJS

References:
1 Includes all cancers that appear on the skin and mucosa
2 Most recent estimates from the European Cancer Information System (ECIS) for the EU-27 countries on melanoma skin cancer incidence and
mortality
3 European Cancer Information System (ECIS) Melanoma Factsheet, 2021
4 The term non melanoma skin cancer (NMSC) covers all cutaneous cancers that do not involve melanocytes. This term is widely (and inconve­niently) used to refer to basal cell carcinoma (BCC) and squamous cell carcinoma (SCC). Keratinocyte Carcinomas (KC), named from the cell of origin (similarly to melanoma) is a more correct term for grouping BCC and SCC, the most frequent skin cancers
5 Other skin cancers exist, including Merkel cell carcinoma, skin lymphomas, adnexal carcinomas etc. and while rare, can have high mortality
6. Girvalaki C et al, Non-melanoma skin cancer as an occupational disease. What is the impact on the society and the welfare system? Journal of Health Inequalities (2020); 6(2) 153-159
7. Communication from the Commission to the European Parliament and the Council: Europe's Beating Cancer Plan (2021)