On June 3, 2021, GlobalSkin brought together over 91 dermatology patient group leaders and dermatology stakeholders from all regions of the world for a virtual half-day Conference. The event was designed to strengthen connections and provide opportunities to collaborate and network.
The Conference Program included informational sessions, interactive sessions which offered networking with other participants and the chance to connect directly with speakers for an intimate Q&A. A collaborative session brought participants together for a sense of community and dialogue around important opportunities in dermatology.
Conference Highlights Included:
Keynote Speaker
Jitske Kramer, a cultural anthropologist spoke about "Connection and Change, the Corona Culture Shock" where she addressed collective challenges of the human experience throughout 2020-21.
Two Informational Sessions:
"Patients as Professionals" where participants learned how they could take their expertise to the next level through the EUPATI Patient Expert Training Programme and
"Demonstrating the Impact of Skin Disease through Data (GRIDD)" where the GRIDD Research Team presented GlobalSkin's novel patient-led research project which is creating a new tool that will measure the impact of dermatological diseases on patients.
A Colloborative Session:
This multi-stakeholder moderated panel on "Harnessing the Power of Collective Action" inspired session attendees as they took a deep dive into how patient leaders can leverage opportunities and elevate the importance of medical dermatology globally.

Patient organization leaders participated in break-out sessions to discuss the question, "What multi-stakeholder actions are needed to secure more attention for medical dermatology globally?" Participants ideated and prioritized the need for a multi-stakeholder consortium which should clearly define what the dermatology community wishes to do together and then pursue those actions collaboratively.
All above mentioned sessions were recroded and can be found in the Members Only area of the GlobalSkin website.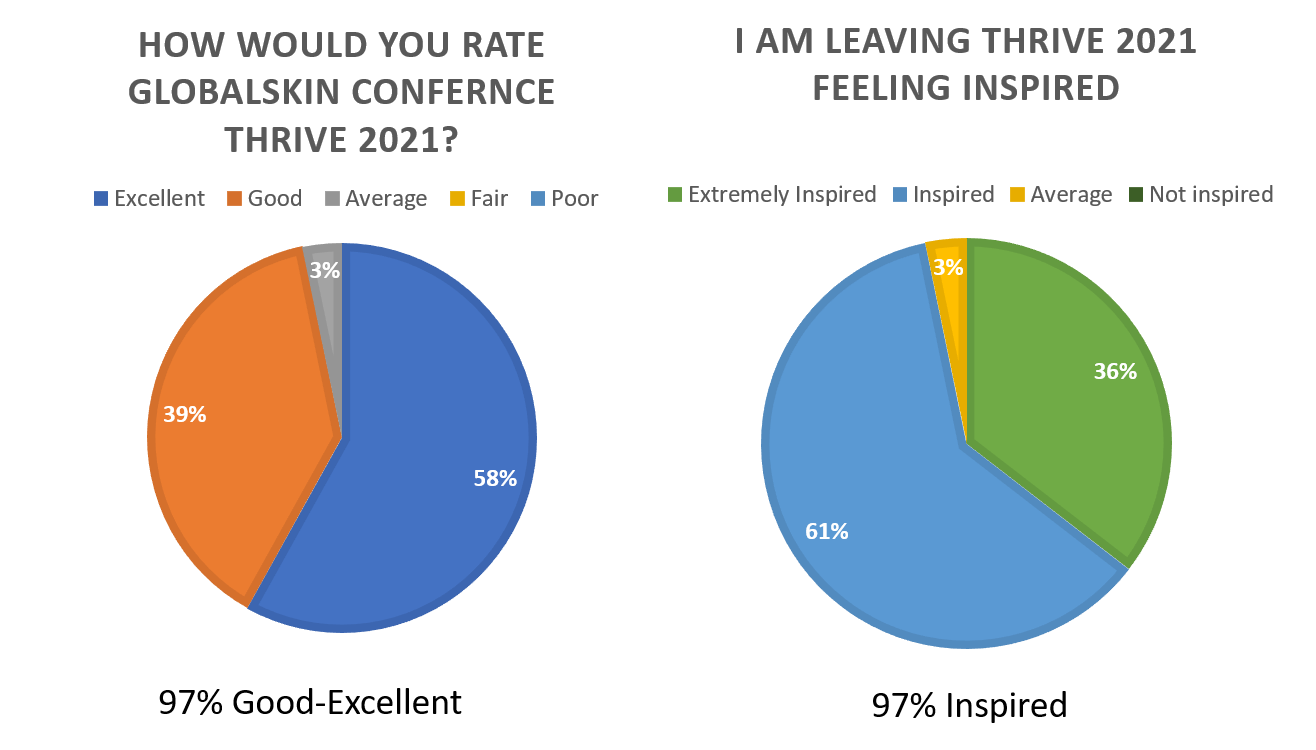 Other Event Features
The virtual Conference had 23 Exhibit Booths from Patient Organization and Partners; each had its own virtual booth space with downloadable materials for attendees.
During the event, GlobalSkin offered a Thrive Engagement Game. Participants were encouraged to complete several activities like attend sessions, visit exhibitors and engage with other event participants and awarded points for each completion.
Congratulations to the top 5 engaged attendees who were awarded Conference branded prizes:
Toni Roberts, Debra South Africa
Kathryn Tullos, ITSAN, (USA)
Melissa Zarb, Malta Eczema Association
Isabelle Thibau, National Eczema Association (USA)
Gary Hing-kwan Lai, Hong Kong Psoriasis Patients Association
Thank you for attending!
GlobalSkin was pleased to put on this virtual event for our Members and very proud to have received a 4.6 / 5 satisfaction score from attendees. We look forward to bringing dermatology patient leaders together again – hopefully, next time in person! Thank you again to all attendees, event sponsors, and the conference committee for making the event a success!
GlobalSkin Shop
And if you didn't win a prize in the virtual game, the GlobalSkin SHOP is open for branded items for purchase. All proceeds from the sale of these items, go to the GlobalSkin Member Impact Fund. Check it out here!
Thank you to the generous event sponsors.