What exactly is GRIDD? How does it all fit together to give us a credible and believable voice for our Members and their dermatology patients? Get the answers to these questions by exploring the following GRIDD resources:
Phases & Outcomes Infographic
A graphic showing the GRIDD timeline, objectives, outcomes and benefits.
GRIDD Phase 3 - Delphi ToolKit - Coming Soon!
Targeted messaging (e-mail invites, etc.) and social media blogs (Twitter, FB etc.) for patient organizations to help promote the Delphi to their members.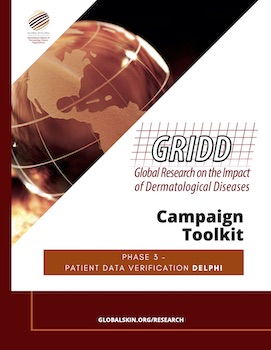 GRIDD Posters & Abstracts
Abstracts and posters accepted at past conferences and events.
YouTube – GRIDD Presentations
Various GRIDD presentations from past conferences and events.
GRIDD Webinars
We will hold another Webinar for GlobalSkin Members in November as a lead up to the Phase 3 -Patient Data Verification Delphi. Members watch your emails for information on this upcoming event.
GRIDD webinars are planned for Phase 4, 2021, and will cover a range of topics including the outcomes of the previous three Phases and how to leverage the data that will be produced from PRIDD (Patient Reported Impacts of Dermatological Diseases) measurement tool that will be launching worldwide in late 2021.