The World Skin Health Coalition was established during a meeting of its Founding Partners in January 2022 and was publicly announced at the World Health Assembly in Geneva in May of that year.
The Coalition is an informal multi-stakeholder collaboration among independent organizations, societies, groups, networks, institutions and companies. Its mission is:
To harness our collective power to raise awareness about the global impact of dermatological diseases/conditions and increase their health policy prioritisation.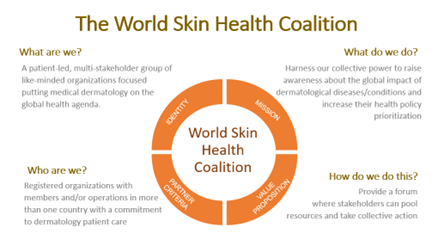 Together we are working to change perceptions about the often-severe impacts of skin diseases and conditions and elevate their prioritization in health policy both at global and national levels.
In 2024, the Coalition will launch a worldwide campaign to bring global awareness to the skin diseases and conditions millions of people around the world are facing every day. In preparation for the campaign, the Coalition is gathering information that will inform the impactful messages.
This patient-led initiative was born from dedicated interdisciplinary dialogue and collaboration with key stakeholders in the global dermatology arena who came together to discuss and evaluate the need for joint action to improve patient outcomes globally.
Learn more about the Coalition's Multi-Year Activities here.
Read about the Coalition launch here.
Learn about the Coalition background here​.
Coalition Partners
The 27 Partners of the World Skin Health Coalition fall into three stakeholder constituencies:
patient organizations,
healthcare professional/medical societies or research organizations and
industry.
Each partner is committed to a collaborative approach by contributing resources through cocreation (conceptualizing, planning, implementing), people hours, or in the case of industry partners, financial resources.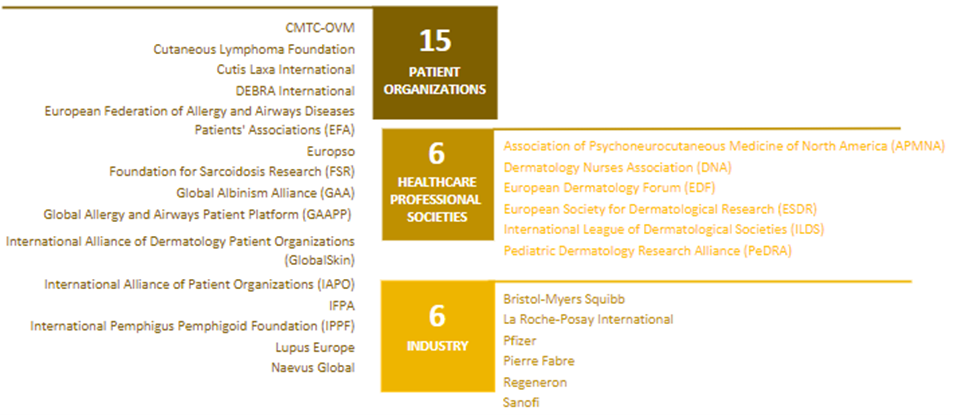 Are you interested in becoming a Partner?
For Patient Organizations & Healthcare Professional societies:
Is your organization a registered organization with members and/or operations in more than one country?
Is the focus of your organization dermatology patient care?
If the answer to both these questions is YES, then please reach out to set up an introductory meeting and learn more about how you can apply. Contact: Catriona Grant
If your organization is a member of a multi-country or umbrella organization that is NOT yet a partner of the Coalition, please let them know about this initiative and invite them to get in touch.
For Industry Partners
Are you active in the area of dermatology?
Are you committed to improving the lives of people living with dermatological diseases/conditions?
If you are an industry partner, then please feel free to reach out by writing to the Secretariat's Strategic Partnerships Manager, Jakub Sadocha, for more information. Contact: Jakub Sadocha
Contact Us
To learn more about the Coalition please contact:
This email address is being protected from spambots. You need JavaScript enabled to view it.
World Skin Health Coalition Coordinator and Project Manager
Coalition Secretariat – GlobalSkin
We gratefully acknowledge the support of our Healthcare Industry Partners