***World Atopic Eczema Day is fast approaching on September 14th. Check out the communications tools to help mark the day**
Atopic eczema is much tougher on patients than people understand. It seriously impacts patients' lives beneath the surface of the skin and can severely affect an individual's health and overall wellbeing. Further, atopic eczema sits at the center of a number of other health issues – it almost always restricts life, impacts mental health, and leads to the development of other diseases.
Patients are at the core of change in atopic eczema awareness and care. Working together with patient groups across the globe, we will rise up together for action on atopic eczema. The 14th of September will mark the second World Atopic Eczema Day, and we'll continue to organize, advocate, and share our stories year after year. This year, we are looking beneath the surface of atopic eczema and its impacts on life.

This second annual World Atopic Eczema Day marks a growing movement aiming to:
Empower a cross-sector and multinational community to build a global movement for change to improve the lives of people living with atopic eczema.
Engage the general public on the topic of atopic eczema by enhancing understanding of the condition's impact on patients' quality of life.
Empower patient groups with a set of common messages and materials.
Support and honor atopic eczema patients and their caregivers.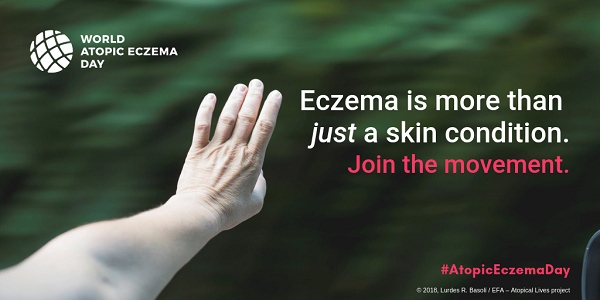 Communications Toolkit
A Communications Toolkit has been developed for your use in the lead up and on World Atopic Eczema Day. This toolkit contains a series of materials that you may use to drive awareness of: atopic eczema, our growing patient organization community, and the second World Atopic Eczema Day on September 14, 2019. It includes key messages, communications collateral for social and traditional media, our new World Atopic Eczema Day logo, and suggestions for local activities and events.
By using a shared toolkit, we can maintain a shared vision and consistent message surrounding World Atopic Eczema Day and achieve the four objectives we've defined for the day.
Download the Communications Toolkit here
NEW and UPDATED - Download Social Media Images here
World Atopic Eczema Day Fund
GlobalSkin is excited to launch the World Atopic Eczema Day Fund, which has been created to financially assist GlobalSkin Member Organizations in the planning and execution of events around this important day. We are grateful to Sanofi Genzyme Regeneron for making this fund possible.
We invite grant applications from our Member organizations in the lead-up to World Atopic Eczema Day on September 14, 2019. Applications that will raise awareness of and/or build community during World Atopic Eczema Day will be considered for funding. We will fund proposals up to 2,000 Euros that fall into one or both of the following categories: 1. Planning and Hosting an Event and 2. Marketing Support.
Please note the following terms and conditions:
1. Only one application per GlobalSkin Member organization is allowed.
2. Please submit your applications - Applications are no longer being accepted.
4. GlobalSkin will review and approve or decline all applications. All funding decisions are final.
5. All applicants will receive GlobalSkin's funding decision by July 29, 2019. All successful applicants have been contacted.
Applicant Criteria:
Grant applicant is a GlobalSkin member in good standing that supports patients living with atopic eczema
Grant does not violate any of the exclusions noted in Program details
Grant aligns with World Atopic Eczema Fund categories
Grant feeds into and supports World Atopic Eczema Day objectives
Grant raises awareness and builds community locally
Click here for full Program Details
If you have questions please contact This email address is being protected from spambots. You need JavaScript enabled to view it., Programs Director, GlobalSkin