GlobalSkin has just welcomed a very special new member - our 100th!!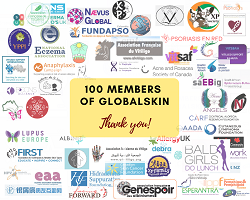 The honour of helping us achieve this important milestone goes to the Eczema Association of New Zealand! We are especially delighted by this new addition because the organization is led by committed GlobalSkin volunteer and our Board Vice-President, Cheryl Talent. She originally became involved in our movement as President of Eczema Association of Australasia. She continues in that role and now also works with the Eczema Association of New Zealand which supports and educates Eczema sufferers and carers, along with the wider community, in all aspects of Eczema and its impact.
Cheryl had this to say:
"My involvement with GlobalSkin has really helped me connect with patient leaders around the world who have the same focus on achieving better outcomes for patients. I feel like I am part of a community that truly helps each other and have been fortunate to have had the opportunity to attend two GlobalSkin conferences and put to use many practices I've learned which I might not otherwise have had the chance to discover."
— Cheryl Talent, IADPO Board Vice-President
President, Eczema Association of Australasia, Inc.
President, Eczema Association of New Zealand, Inc.
GlobalSkin's 100 members now represents 37 countries worldwide, and over 36 skin disease areas. The strength of our Alliance is found in our community of members who contribute their wisdom and understanding of their organizations' skin diseases; their ideas; and most importantly their time. Thank you to all of our Members! Together, we share in this achievement!
Look for more features about our 100 members in the New Year.