Member Organization: Foundation for Sarcoidosis Research
Member since: January 2021
Country/State: (USA/Florida)
The Foundation for Sarcoidosis Research is America's leading non-profit organization dedicated to finding a cure for this disease and to improving care for sarcoidosis patients. Since its establishment in 2000, FSR has fostered over $5 million in sarcoidosis-specific research efforts and has worked diligently to provide resources to thousands.
FSR also offers annual conferences, webinars, and comprehensive educational materials for people across the globe living with sarcoidosis, and connects patients to each other for support and enabling a larger impact. More than 46,000 members from all 50 states and nearly 80 countries have joined our free Stop Sarcoidosis Online Support Community. Thousands more are helped through in-person support groups under the umbrella of FSR.
Thank you to Tricha Shivas, Vice President of Research and Strategic Partnerships for sharing her stories, insights, and the work of the organization.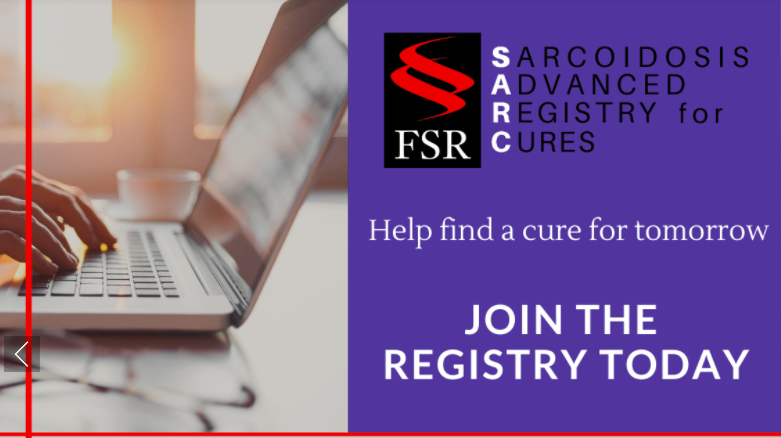 Get to know more about the Foundation for Sarcoidosis Research below:
What do you want us to know about your organization?
The Foundation for Sarcoidosis Research (FSR) is the world's leading international organization dedicated to accelerating research and supporting those living with sarcoidosis. Sarcoidosis is a rare inflammatory condition that can impact any organ. Cutaneous Sarcoidosis occurs in 20 to 35 percent of patients with systemic sarcoidosis and may occur without systemic involvement. Cutaneous sarcoidosis is known as one of the "great imitators" in dermatology because lesions can look different from patient to patient. Cutaneous sarcoidosis is more common in women. Scandinavian countries have the highest prevalence of the disease.
What do you consider to be your organization's biggest accomplishment and success?
FSR is most proud of our extensive efforts in accelerating research in pursuit of better treatments and possible cure. FSR has provided over $5 million in sarcoidosis research to advance sarcoidosis treatment. In 2015, FSR established a patient registry that now has over 5,000 participants helping us to get a better understanding of how sarcoidosis impacts patients' quality of life, economics, and overall health. In 2018, FSR launched our Clinical Studies Network consisting of 14 academic centers worldwide. FSR's Clinical Studies Network works together to design studies, are building a shared registry, and develop recommendations and guidelines.
What are the biggest challenges that sarcoidosis patients face?
Because we have very little understanding of what causes sarcoidosis, there are few treatments available to treat this disease. Off-label use of medications and experimental applications are not available to all patients and often face significant delays in access even in countries where they are available. This delay in treatment can result in increased financial burdens and irreparable progression of the disease.
Learn More About This Organization:
Website: https://www.stopsarcoidosis.org/
Shop for merch: https://fsrwebstore.com/shop-all/
Facebook: https://www.facebook.com/StopSarcoidosis
Twitter: https://twitter.com/StopSarcoidosis
Instagram: https://www.instagram.com/stopsarcoidosis/
YouTube: www.youtube.com/user/StopSarcoidosis