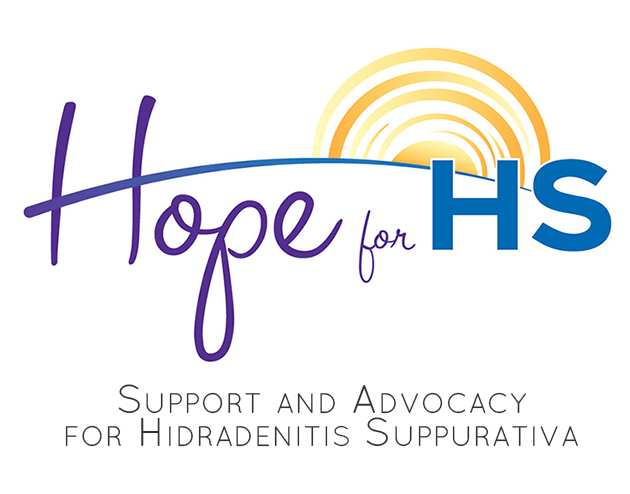 Member Organization: Hope for HS
Member since: September 2021
Country: United States
Summary:
This organization supports patients and families who are affected by Hidradenitis Suppurativa (HS).


Hope for HS is a100% volunteer-run organization, with no paid staff and very little overhead, any funds raised go directly toward our programs.


Every member of our Board of Directors is a patient themselves, or the spouse or parent of someone diagnosed with Hidradenitis Suppurativa.
Get to know more about Hope for HS below!
Thank you to Athena Gierbolini, President of Hope for HS for sharing her stories, insights, and the work of the organization.
What would you like me to know about your organization?
Hope for HS is a 100% volunteer, grassroots, patient, and caregiver-directed nonprofit organization that's been supporting and advocating for HS Patients since 2013. We first came together at a local support group and realized that there is so much work to be done! Who better to do it and be sure that it's done right, than the people that live with this disease every day?

Since 2013 we have successfully launched several new chapters for in-person and virtual support groups, creating a bridge between HS doctors and patients in their area. Our perennial efforts to raise awareness through events, speaking engagements, and national proclamation campaigns empower members of the HS community to get involved and create change for patients everywhere.
What do you consider to be your organization's biggest accomplishment and success?
Our robust schedule of virtual support groups and live stream events is our pride and joy. We have been able to get the nation's experts to hold interactive and informative webinar sessions for patients. Accurate and up-to-date information is accessible, free, and frequent for patients and that is invaluable when you are living with such a complicated disease.

The confidential nature of our support groups also connects patients with one another in private, safe places. Unfortunately, isolation plays a major role in living with HS and our support groups help ease that burden. I feel empowered after each and every single one of them and I see that the patients who attend them feel the same. It is incredibly rewarding.
What are the biggest challenges that HS patients face?
I could write a book with this answer. There is still so much we don't know and understand about HS, both within the medical and patient community, on top of the general public. Because of this, HS patients face stigma, receive less than adequate care, if any, and lack support. There is a huge burden of care with daily maintenance, wound care supplies are costly and not often covered by insurance, and access to knowledge doctors is challenging.

The road to diagnosis for an HS patient is currently 7 years. There is often a misdiagnosis, trips to urgent care and emergency rooms where patients are having traumatic experiences by doctors who are not being educated about HS in their medical school education. It is a long and painful road for patients just to get the diagnosis and then they still face an uphill and lifelong battle in treating this disease because of its complexities.
What is the best piece of advice you have for skin patient organization leaders?
I am newly elected to leadership with a skin patient organization, but I will say that my most rewarding experiences have been connecting with our members continuously. I attend almost 100 percent of our events because I love them so much, and I want our members to feel the same way.

I think a success in leading skin patient organizations can be derived from staying connected to Members and understanding all of the challenges they face. In these interactions, I am inspired by the stories I hear and motivated to continue the fight. There is so much work to be done with skin diseases in general, and Hope for HS joined this greater organization because we believe that the fight can be won together.
Learn more about this organization by visiting their website: https://hopeforhs.org/

Follow them on Twitter: https://twitter.com/hopeforhs
Follow them on Facebook: https://www.facebook.com/HopeForHS/
Follow them on Instagram: https://www.instagram.com/HopeforHS/
Check out their YouTube channel: https://www.youtube.com/channel/UCNJHYaoiCn6o9C6EvwrMCmQ