GlobalSkin brought together dermatology stakeholders for a series of multi-stakeholder roundtable discussions it hosted in 2020 and 2021. The purpose of these sessions was to explore the challenges and objectives faced by dermatology patients and the community that serves them. Participants – representing patient organizations, dermatologists, nurses, researchers and industry – were aligned in their perspectives that dermatological diseases are not well understood and their impacts are underestimated. As a result, patients are underserved and stigmatized, research is under-prioritized and under-funded and access to specialist care is relatively poor.
Our shared ambition coming out of these discussions is to improve patient outcomes globally by raising awareness of the impact of dermatological diseases and increasing the healthcare prioritisation of these conditions.
Following is a summary of the roundtable process and outcomes: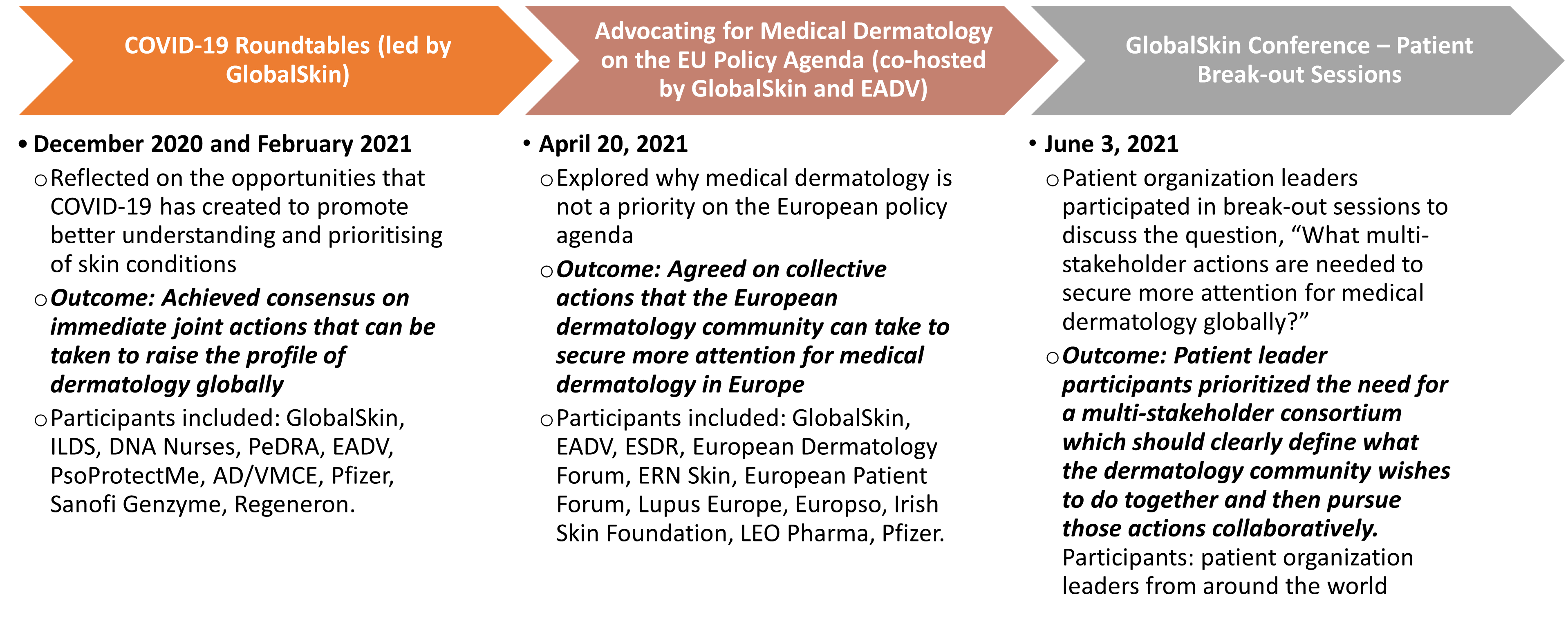 Following our analysis of this multi-stakeholder input, GlobalSkin brought participants back together in October 2021 to discuss how to achieve broad community collaboration that would elevate the profile and understanding of dermatological diseases. The formation of a Coalition was explored with feedback collected on how best to establish a forum for ideas, collaboration and joint actions that fulfills on the following agreed-to values:
An informal multi-stakeholder collaboration between independent organizations, societies, groups, networks, institutions and companies. It will not be registered or a legal entity
Patient-led with GlobalSkin as coordinator (i.e. secretariat).
Democratically run with equal representation and simple majority rule at all levels of decision making.
Transparency and agility in operations and decision making.
Feasible, incremental, efficient, tangible, impactful actions.
Collaborative approach with each member committing to contributing through co-creation (conceptualizing, planning, implementing), people hours, and/or financial resources.
Inclusive and global in focus.
High ethical standards whereby members are equal and do not unduly influence decisions and outcomes. Adherence to the Consensus Framework for Ethical Collaboration.
Return to main World Skin Health Coalition by clicking Here