Dear GlobalSkin Members: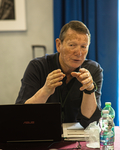 As President of the International Alliance of Dermatology Patient Organizations (GlobalSkin) I want to say thank you to all of our members who joined us at the GlobalSkin 2019 Conference in Milan, Italy this past June.
The GlobalSkin 2019 Conference brought together over 120 patient leaders, industry representatives and other stakeholders for an incredible several days. The expert-led sessions provided collaborative learning experiences that flowed beyond the conference spaces into shared meals, networking and back to our respective organizations. For this, I thank you. Thank you, not only for sharing your knowledge and experiences, but also for sharing your challenges and for welcoming ideas and insights from other patient leaders.
The GlobalSkin Board of Directors also met in Milan for two days of strategic planning to develop a plan which will guide our organization over the next three years. This is vitally important to us all in the work we do together as a movement. And because of this, input from our Members is a key step in finalizing this plan. We are therefore asking that you provide your input via an online survey, which will be arriving in your inbox soon. Once we have made any adjustments to the draft plan, we will share it with Members again and ask for final approval at the upcoming AGM this fall. We look forward to your input on this strategy.
Over the years we have welcomed patient organizations from around the globe to join our alliance and we are happy to announce that we are now 150 members strong! Our organization has seen nearly 50% growth since the beginning of 2019. Together, we now represent 48 countries and 68 disease areas. GlobalSkin is gaining momentum around the world through collaboration and community building alongside our patient leaders, researchers, partners and other stakeholders. We are stronger together!
Thank you for being part of our growing movement.
Yours truly,
Jean-Marie Meurant
Board President, GlobalSkin
| | | | | |
| --- | --- | --- | --- | --- |
| | | | | |