Dear GlobalSkin Members,
On behalf of the Board of Directors, and the GlobalSkin team, I want to extend the warmest season's greetings to the entire GlobalSkin Community!

2020 has been an incredibly challenging year and it was certainly not the one that was expected when we rang in the new year in January. Our priorities shifted, our work environments changed, our family lives were affected in so many unexpected ways and sadly, some of us lost family members or friends this year as a result of the pandemic.
This year was hard, and some days were not as productive as we would have hoped; some days we did not get through our 'to-do' list and some days we recognized that we simply needed a break. I want to applaud you for taking care of yourselves when you needed to and for recognizing when it was all just too much. We cannot ignore that we are living in extraordinary times.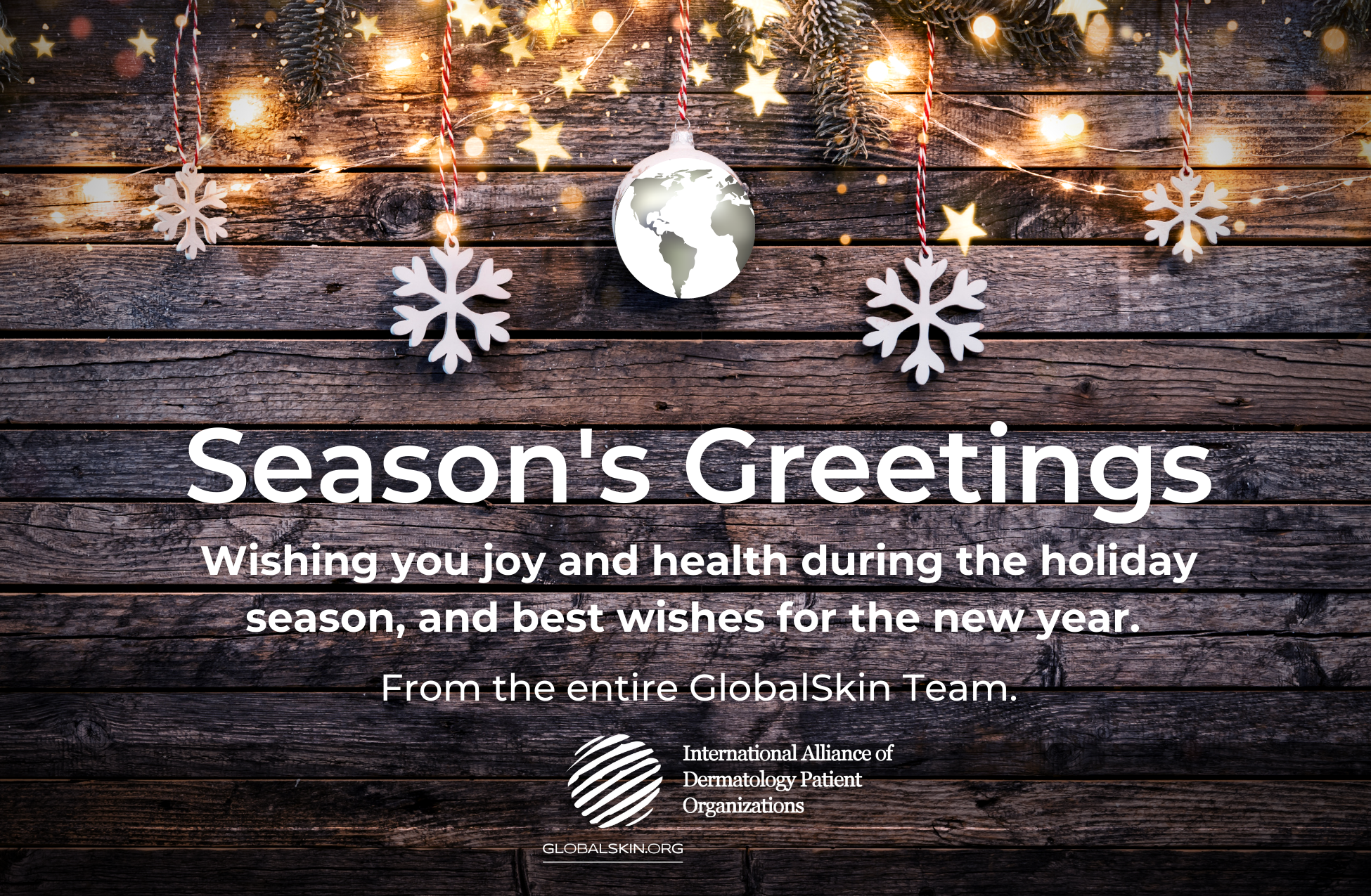 I also applaud you for those times you were able to push ahead with the work you do on behalf of the dermatology patients you serve.
Through mutually supportive efforts amongst the GlobalSkin Community, we have also persevered during the coronavirus pandemic. This theme was evident all year long. Our Member organizations told us they increased supportive services to their patient communities as in-person access to healthcare providers was limited for many weeks/months; GlobalSkin launched many supportive programs focused on our Members' needs, and our stakeholders and partners stepped up and carried on with critical support which helped bring it all to life in 2020.
Some highlights for us in 2020 include:
Our GlobalSkin Membership has grown to 177 dermatology patient organizations, from 58 countries, and representing more than 65 disease areas.
We hosted a number of highly informative and well-attended virtual COVID-19 Townhalls for our Members, with key stakeholders and experts, and created a dermatology-focused COVID Resource page (with 700 visitors since April). Both the webinar recordings and resources can be accessed here.
Our five-part Fundraising E-learning Series for Members, with free tools and resources focused on grassroots fundraising concepts was a huge success with members. It is available in our Members' Only section if you missed it.
The new GlobalSkin Member Impact Fund has provided direct financial support to 24 Members in 14 countries for projects in their countries and regions.
I am pleased to thank the GlobalSkin 2020-2021 Board of Directors for their service over the past year. Our diverse and experienced Board looks forward to continuing to lead our organization as it builds support for our member organizations, unifies our voices, and helps build a world where people with dermatological conditions can lead healthy lives with timely access to the care and treatment they need.
And finally, I hope the new year brings you and your loved ones joy, good health, peace and prosperity.
Warm regards,
Simmie Smith
GlobalSkin Board President