2023
EADV Congress 2023
The 32nd European Academy of Dermatology and Venereology (EADV) Congress was held in Berlin, Germany from October 11-14, 2023. Our delegation included Board Directors Marc Yale and David McMahon along with senior GlobalSkin staff Visnja Zaborski Breton, Tammi Shipowick, Allison FitzGerald and Strategic Partnerships Manager Jakub Sadocha. Together with many Member organizations, we amplified the patient perspective. Our presence was marked by meaningful interactions with doctors, stakeholders, dermatology societies, and attendees through a series of engaging events that resonated with the audience.
Highlights of our time in Berlin included the following:
GlobalSkin hosted an exclusive workshop titled "Building Stronger Bonds: Fostering Effective Partnerships between Patient Organizations and Pharma Industry" for its European community. Facilitated by Dr. Tamás Bereczki, the workshop equipped attendees with a plethora of insights vital for forging robust alliances with stakeholders in the pharma sector.
In addition, we hosted our "Skin Matters Reception" where we focused on the work GlobalSkin is undertaking to elevate the understanding and prioritization of dermatological diseases. Special remarks were given by Prof. Henry Lim, President of the International League of Dermatological Societies (ILDS), Prof. Matthias Augustin from Hamburg University, and GlobalSkin's Board President, Marc Yale. Their views were well-received by members, partners, and guests alike.
GlobalSkin also co-chaired a Joint Session with the EADV Patient Advocacy Task Force on "How Collaboration Improves Access to Care". This was the 7th occasion GlobalSkin co-organized a session with Task Force, highlighting the longstanding association. The session provided a platform for patient organizations and dermatologists to share real-world examples of their collaborative endeavors. The presentations from patient organizations were extremely insightful, offering a grounded understanding of the challenges faced by patients and the solutions that can be created through concerted efforts.
Alongside the ILDS and the EADV, GlobalSkin co-hosted a summit centered on the theme, "Occupational and Non-occupational Skin Cancer: A Persisting Global Burden". The summit highlighted the urgent need for action against skin cancer, emphasizing the vital role stakeholders play in this regard. Marc Yale, along with representatives from the International Pemphigus & Pemphigoid Foundation and the Global Albinism Alliance, brought forth the patient's perspective, driving home the importance of awareness and prevention.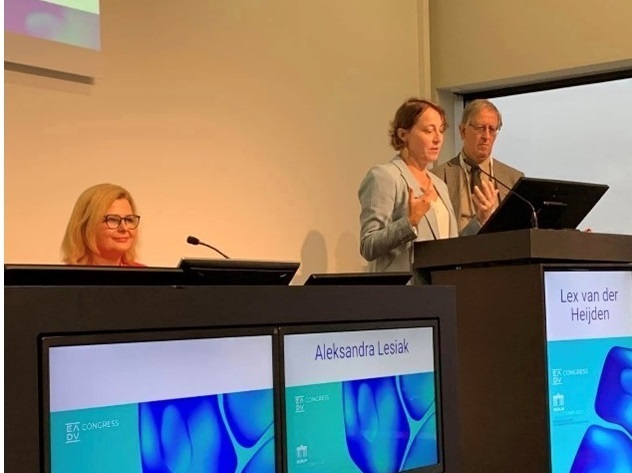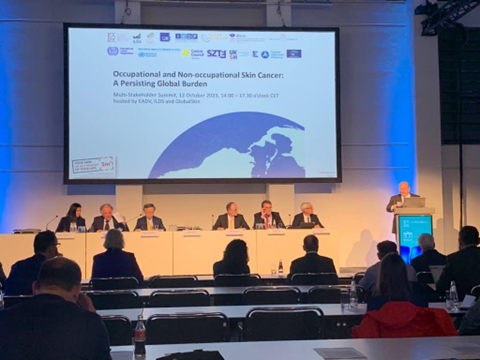 GlobalSkin made its presence felt in the Patient Organization Area as well throughout the Congress, offering an opportunity for attendees to engage in meaningful dialogue and establish connections with the organization's representatives. With various patient organizations also present, the area became a hub of shared experiences, knowledge exchange, and collaborative discussions.
The GRIDD Research project poster was also showcased by GlobalSkin in the E-Poster Area of the Congress, allowing attendees to understand the research's significance and discover how they could contribute.

In reflecting on the 32nd EADV Congress, GlobalSkin's active role and collaborative spirit were unmistakably evident, reinforcing the essence of cohesion, information sharing, and proactive advocacy in advancing dermatological care and patient well-being on a global scale.
2022
Policy Roundtable: Addressing the Burden of Skin Disease in Europe through Policies and Partnerships
EADV's Policy Roundtable took place on 8th September, and brought together dermatologists, patient organisations, industry, the World Health Organisation, European Commission and European Parliament for a solution-oriented discussion on the actions needed to tackle skin diseases in the EU.

GlobalSkin CEO Jennifer Austin presented on the GRIDD Project. Click here for a synopsis of the policy roundtable event.
European Academy of Dermatology and Venereology (EADV) Congress
GlobalSkin was excited to be a part of the European Academy of Dermatology and Venereology (EADV) Congress in Milan this September (7-10).
GlobalSkin believes that Patient Leaders are a wealth of ideas and expertise, and Members who were present at EADV Congress were invited to a GlobalSkin-Europe session, Pitching the Next Great Idea.

Presenting Members come prepared to share one of their success stories, an innovative idea and/or best practice with colleagues. Presenters had 5-7 minutes to pitch their ideas and answer questions.
This Member event was followed by a GlobalSkin reception.