GlobalSkin-Europe supports GlobalSkin Member organizations located in this region in meaningful ways, like building organizational capacity, supporting member recruitment and advancing advocacy goals.
In order to pursue the strategic goals of the European Members, this Community will be guided by a four-dimensioned approach of community building: Identity, Engage, Empower, Mobilise. 
Identify existing and potential patient organisations operating in Europe. Identifying skills, knowledge and resources among them. Identifying key issues as a basis for an aligned advocacy platform;  


Engage key actors, including patient organisations, decision-makers, and other stakeholders in dialogue and advocacy activities;
Empower patient organisations via various capacity-building initiatives; 


Mobilise the Community by collecting or creating resources for advocacy, networking, and coordinating communications activities
This strategic approach must allow patient communities to organise their activities on a larger scale and in a more coordinated manner. Moreover, patient organisations would be reinforced in terms of capacity and European advocacy.
Community Engagement 2022-24
GlobalSkin-Europe has developed a Community Engagement plan for 2022-2024, the aim of which is to empower the community to unite with a single voice and take a place at the top table of health policy in Europe. It stands on two main pillars: community building and advocacy activities.
The community engagement plan is based on three building blocks: "Action, Build, Collaborate". The initiatives taken must have an Actionable outcome, insights, and measurements must Build awareness, and must encompass Collaboration of different partners throughout this action.
Learn about how the Community Engagement Plan was built on community consultations here.
The expected outcomes for 2022 are:
Creating an awareness campaign, in conjunction with that of the Global Dermatology Coalition, that will include the results of discussions with different partners on the timing and concept of the European Skin Disease Awareness Campaign.


Starting a conversation with policymakers around skin diseases, including accentuating the importance of dermatological diseases in these debates, organising panel discussions on relevant topics with different stakeholders, and getting actively involved in the EU Health Policy Platform. 



Promoting GRIDD awareness outside the GlobalSkin Community, which includes highlighting GRIDD data within the framework of different dialogues and discussions. 

News
On February 4, World Skin Cancer Day, GlobalSkin joined together with 56 other organisations representing dermatology, oncology and other healthcare professionals as a signatory to the EADV Joint Statement on skin cancer prevention in the context of the European Union's Beating Cancer Plan.
__
GlobalSkin has successfully achieved "patients' and consumers'" status with the European Medicines Agency. This means that our organisation is now eligible to be involved in the Agency's activities. Read more about the status here.
GlobalSkin-Europe Discussion Topics
We invite our European Community Members to contribute to our discussion topics list. The more we learn about each other's shared positions, the more we can support one another on specific issues at European policy tables. We are collecting our Member's viewpoints on topics such as medicine shortages, telemedicine and artificial intelligence among others. We invite you to share your views on this form.
Events
Pitching the Next Great Idea
GlobalSkin-Europe held its session "Pitching the Next Great Idea", on September 7th in Milan. Approximately 15 GlobalSkin Member organizations were present, 10 of whom presented their innovative projects in the field of patient advocacy and capacity building.
GlobalSkin thanks everyone for their engagement and enthusiasm.
Learn about each "Next Great Idea" here

European Medicines Agency (EMA)
We are pleased to share the Council for International Organizations of Medical Sciences (CIOMS) report on "patient involvement in the development, regulation and safe use of medicines".
The report is the result of four years of work with patient group leaders, academics, industry experts, regulators and other stakeholders. It describes the importance of systematically involving patients throughout a medicine's life – from its early development through the regulatory process to ongoing monitoring and safe use in everyday healthcare.
⊕ Click the image below to enlarge
Past Events
Mobilizing for the Future
On January 27, 2022 members of the GlobalSkin-Europe Community came together to discuss the impacts of dermatology and to suggest ways to amplify its importance. Members were treated to a presentation about European data insights derived from the Delphi process of the Global Research on the Impact of Dermatological Diseases (GRIDD) project. A multi-stakeholder panel discussion followed the GRIDD presentation and participants took part in a focused conversation about the European Community Engagement Plan.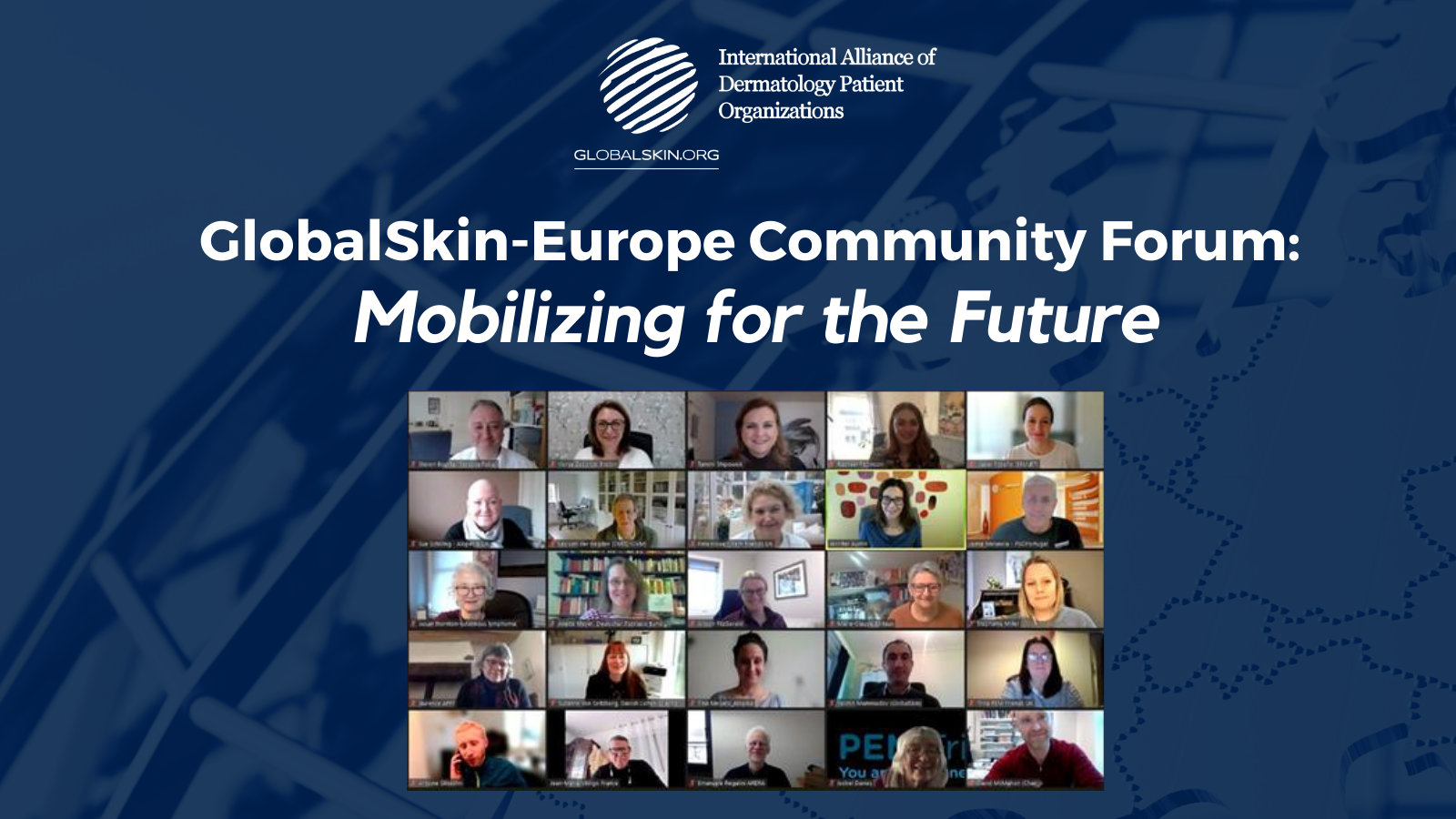 Putting Medical Dermatology on the EU Policy Agenda
On April 20, 2021 GlobalSkin, along with the European Academy of Dermatology and Venereology (EADV), organised a Multi-Stakeholder Roundtable event. The main focus of this event was to put medical dermatology on the European health agenda. The participants reflected on the neglected importance of medical dermatology at the European level, underlining obstacles and opportunities. The Roundtable brought together participants representing GlobalSkin, EADV, ERN Skin, patient leaders, nurses, clinicians, researchers, and industry. GlobalSkin-Europe Advisory Committee members Jaime Melancia and Annemarie Sluijmers were present at this meeting.
European Patients Leaders Forum - Envisioning the Future & Empowering the GlobalSkin European Community: What's Next?
GlobalSkin brought together European dermatology patient leaders for roundtable discussions in January and March 2021. The Landscape Analysis, a document reflecting members' needs and priorities, was used to lay the groundwork for the patient leader meetings. These facilitated events also contributed to capturing patient organization visions for the future and started the dialogue about the creation of a roadmap in this new region-specific, dermatology patient organization  Community.
GlobalSkin-Europe Patient Leader Advisory Committee
A European Patient Leader Advisory Committee was established to help guide the development of a GlobalSkin-Europe three-year strategy.
Africa Luca de Tena - Asociación de Afectados por la Dermatitis Atópica (AADA), Spain
Annemarie Sluijmers - Lupus Europe, Netherlands
Antoine Gliksohn - Genespoir (Albinism), France
Gunter Van Dyck - Allergienet, Belgium
Isobel Davies - PEM Friends, UK
Jaime Melancia - PSOPortugal, Portugal
Karin Veldman - Vereniging voor Ichthyosis Netwerken, Netherlands
Spela Novak - Drustvo Atopijski Dermatitis, Slovenia
Tina Mesaric - Atopika, Slovenia
Yalchin Mammadov - GlobalSkin, Belgium
GlobalSkin is grateful to all European Members for their thoughtful contributions and collaborations.
Please direct any questions about GlobalSkin-Europe to Yalchin Mammadov, GlobalSkin Special Advisor Europe.
Thank You To Our 2022 Partner: