Atopic eczema is an allergic skin disease that sits at the center of other health issues; it impacts mental health and leads to the development of other diseases. The disease is incredibly difficult for patients and their families, seriously impacting daily life. Whether you live with atopic eczema, care for someone with the condition, or are already actively involved with a patient association, your voice is important!
World Atopic Eczema Day was launched in 2018 to raise awareness about the disease globally and across Europe through an initiative coordinated by GlobalSkin and the European Federation of Allergy and Airways Diseases Patients' Associations (EFA).
World Atopic Eczema Day Fund
GlobalSkin created the World Atopic Eczema Day Fund to financially assist Member organizations in the planning and implementation of activities supporting this important day. In 2020, GlobalSkin awarded grants to 16 Member organizations for their world Atopic Eczema Day awareness day projects.We are pleased to offer this grant opportunity for the third year in a row.
This year, we have now approved applications that fully demonstrated how their Member organizations will use theirgrant funds to raise awareness of the disease and/or build community during World Atopic Eczema Day.
We are proud to announce that GlobalSkin is supporting 20 successful applicants, representing 14 countries, with the 2021 World Atopic Eczema Day Fund.
Congratulations to our Members! We look forward to seeing your innovative and informative projects in September.
Allergienet

vzw

, Belgium

Allergy and Me

, Serbia

Global Parents for Eczema Research

, USA

Eczema Society of Kenya

, Kenya

Drustvo

Atopijski

Dermatitis

, Slovenia

Eczema Outreach Support

, UK

ITSAN

, USA

Institute

Atopika

, Slovenia

Eczema Association of Australasia Inc.

, Australia

Allergy and Asthma Network

, USA

Eczema Support Australia

, Australia

SkinSriLanka

, Sri Lanka

Global Allergy and Airways Patient Platform

, USA

ADERMAP

,

Portugal

The Israeli Association for Atopic Dermatitis

, Israel

Epidermia

, G

reece

Polskie

Towarzystwo

Chorób

Atopowych

,

Poland

Atopikerna

, Sweden

Association

Française

de

l'Eczéma

, France

British Allergy Foundation (Allergy UK)

, UK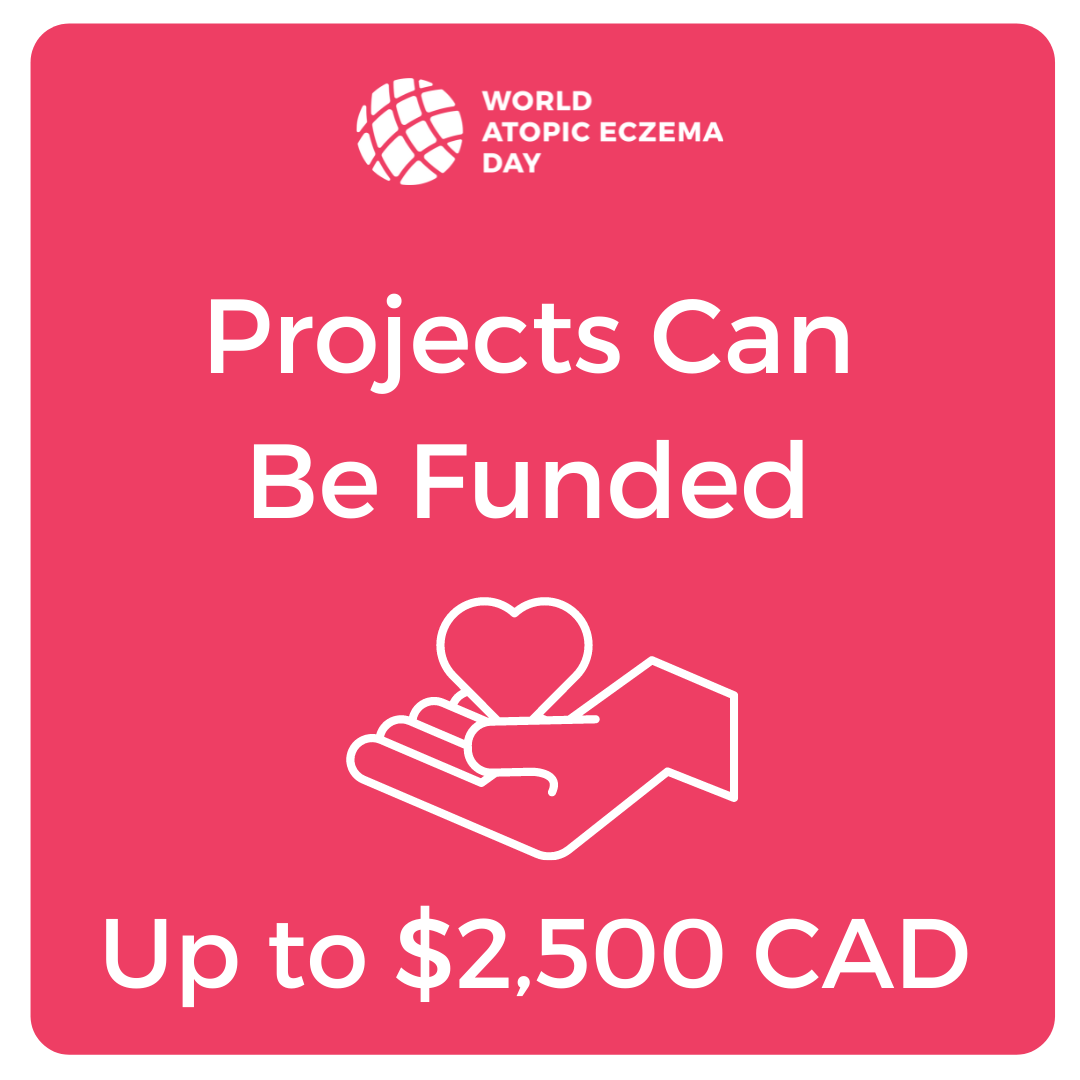 If you have any questions or concerns regarding the World Atopic Eczema Day Fund
please contact  This email address is being protected from spambots. You need JavaScript enabled to view it..


---
World Atopic Eczema Day 2021 Campaign
Atopic eczema is one of the most prevalent skin diseases in the world and one of the most under-recognized. Atopic eczema is often dismissed as "just a skin condition," and patients' needs are not addressed in a supportive and timely manner.
The Atopic Eczema Community comes together on September 14th to raise awareness for the disease, to speak up about the burden it has on patients and caregivers, and to recognize the need for care and treatment that is reflective of the multi-dimensional nature of the disease.
Need the basics to run an awareness campaign? Download our Atopic Eczema Campaign Guide Here.
We call on healthcare professionals, health policy decision-makers, and all stakeholders to unite with the atopic eczema patient community on this awareness day.
On World Atopic Eczema Day 2021, we Unite for Atopic Eczema. #UniteForAtopicEczema #AtopicEczemaDay
Spread the word! Let's #UniteForAtopicEczema
Get started by following the conversation online with the hashtag #UniteForAtopicEczema. Leading up to September 14th, download these social cards and use the suggested text to equip others with the facts about Atopic Eczema.
Instructions:
Click and drag each social post graphic to your desktop, and copy + paste the suggested text into your post.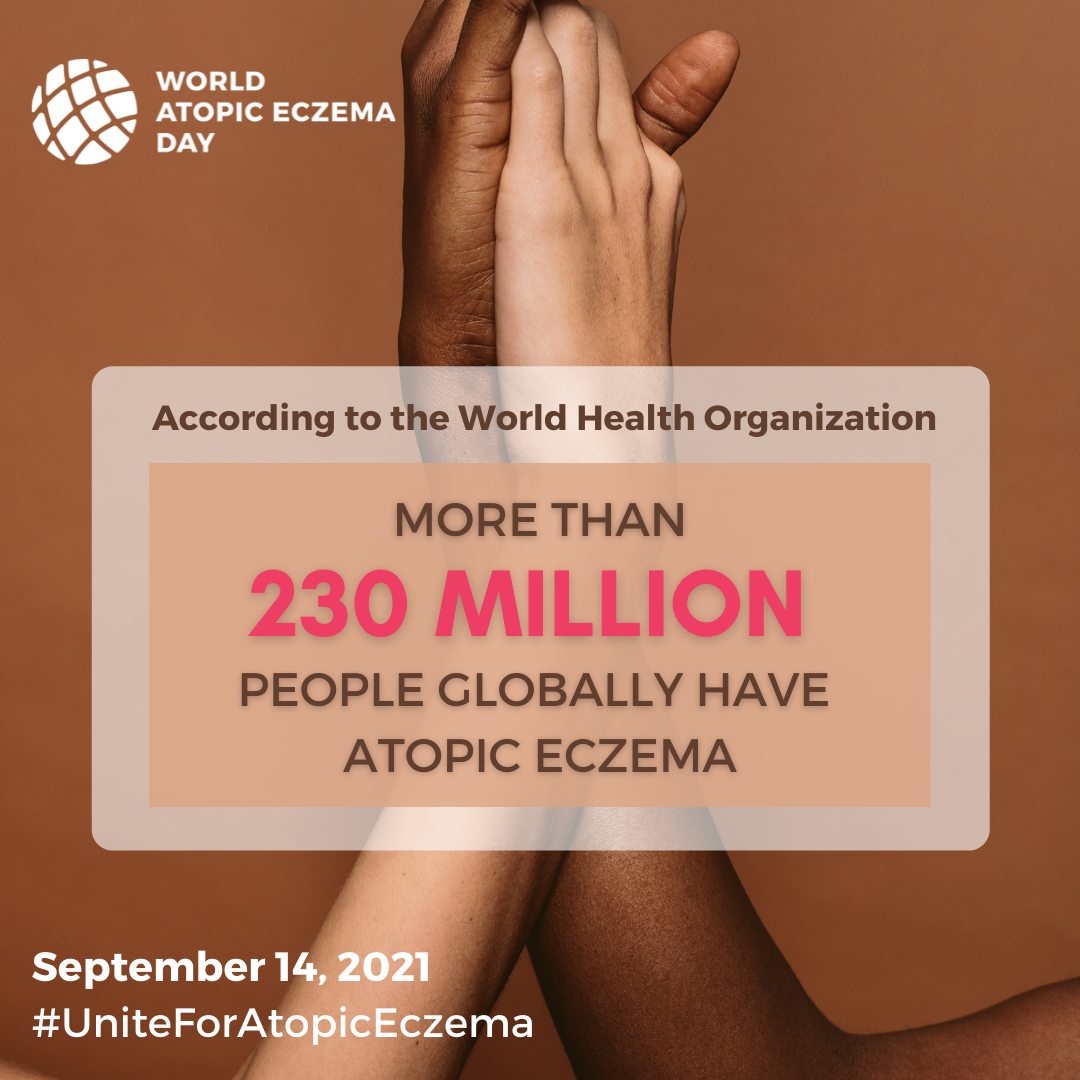 Suggested text: Atopic eczema is more than itchy skin, it is a systemic, multidimensional disease that affects the minds and bodies of people around the world. #UniteForAtopicEczema #AtopicEczemaDay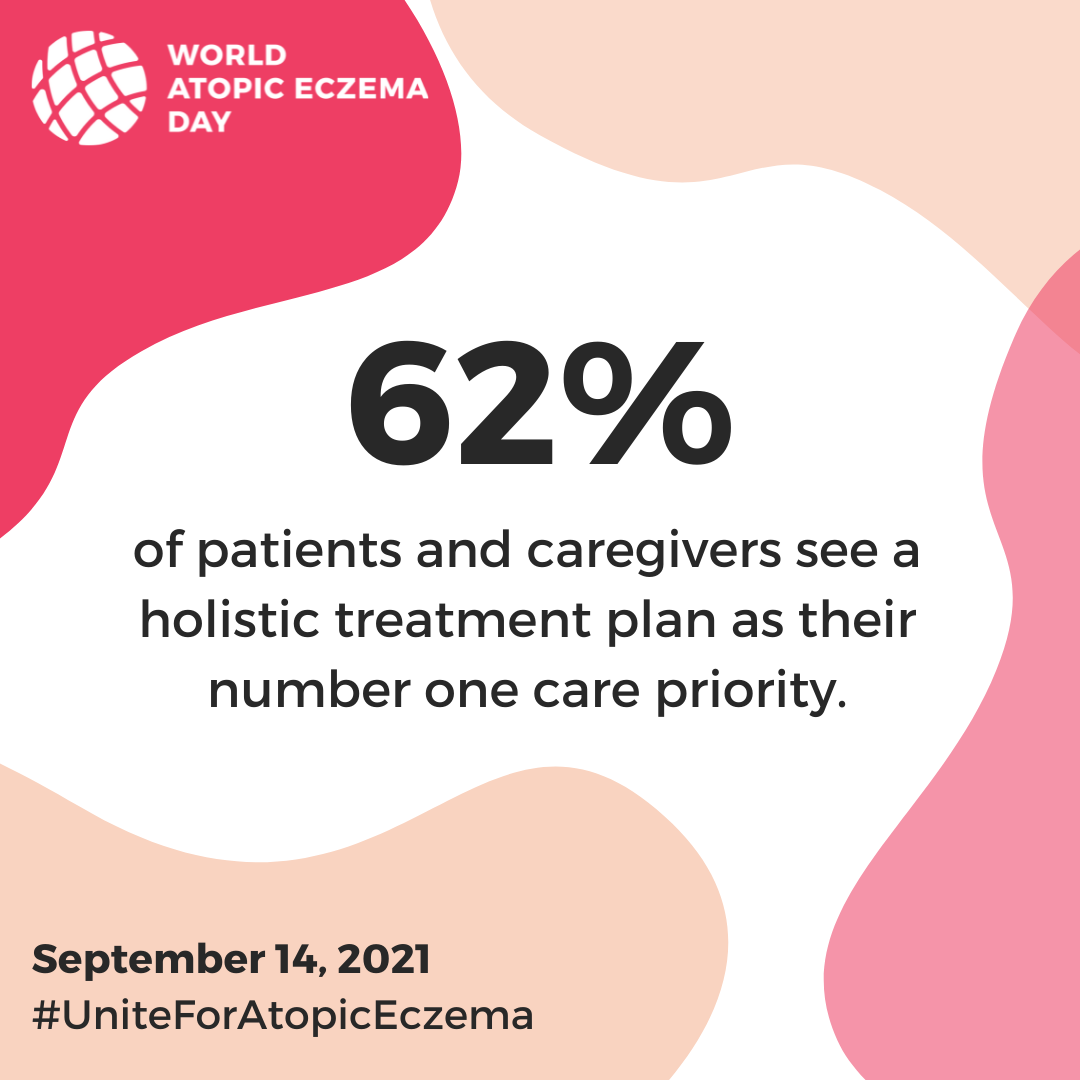 Suggested text: Patients live with atopic eczema most of their lives, they require a multidisciplinary plan to best manage their disease physically and mentally. #UniteForAtopicEczema #AtopicEczemaDay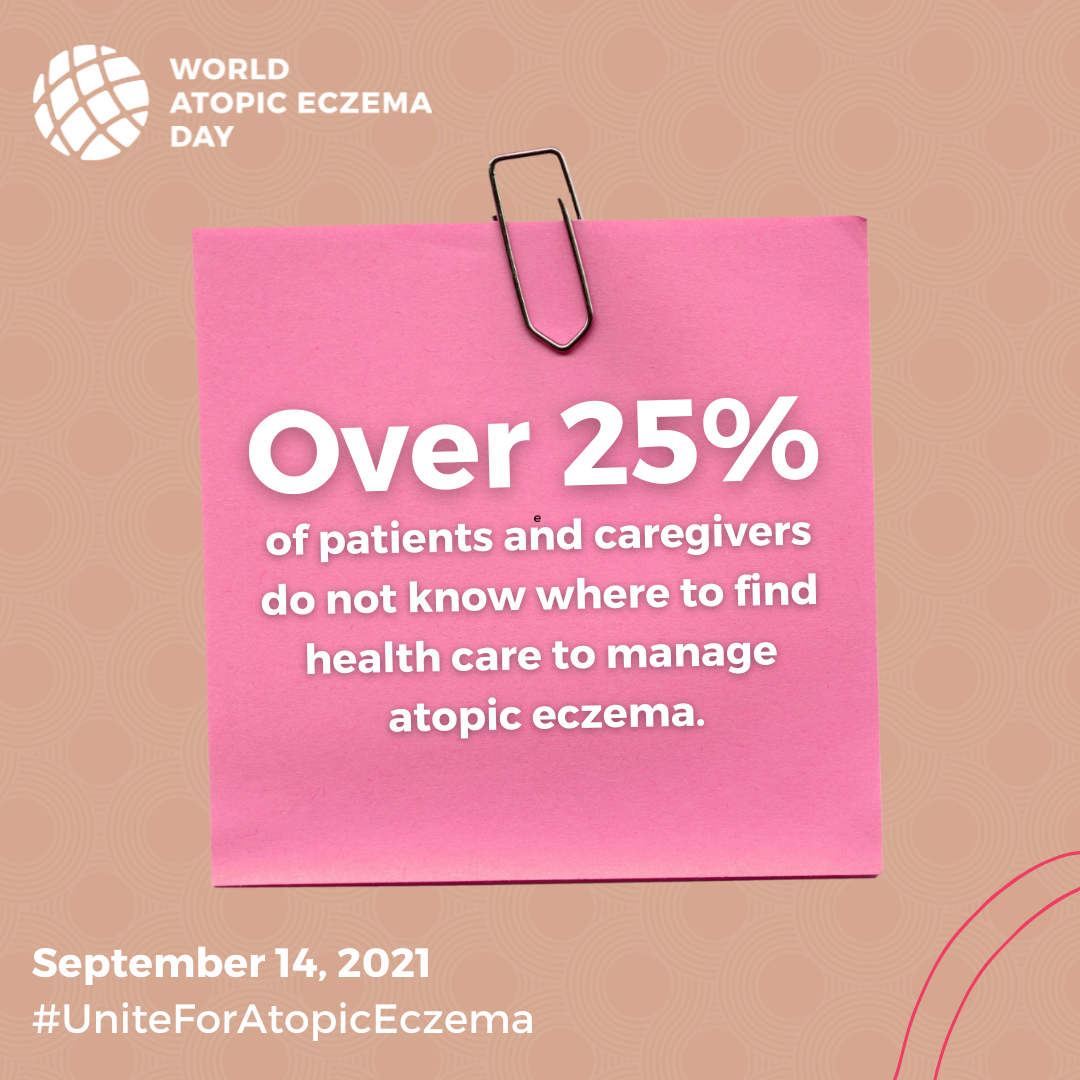 Suggested text: We call on healthcare professionals to unite with atopic eczema patients, embrace their needs, and deliver patient-centered care. #UniteForAtopicEczema #AtopicEczemaDay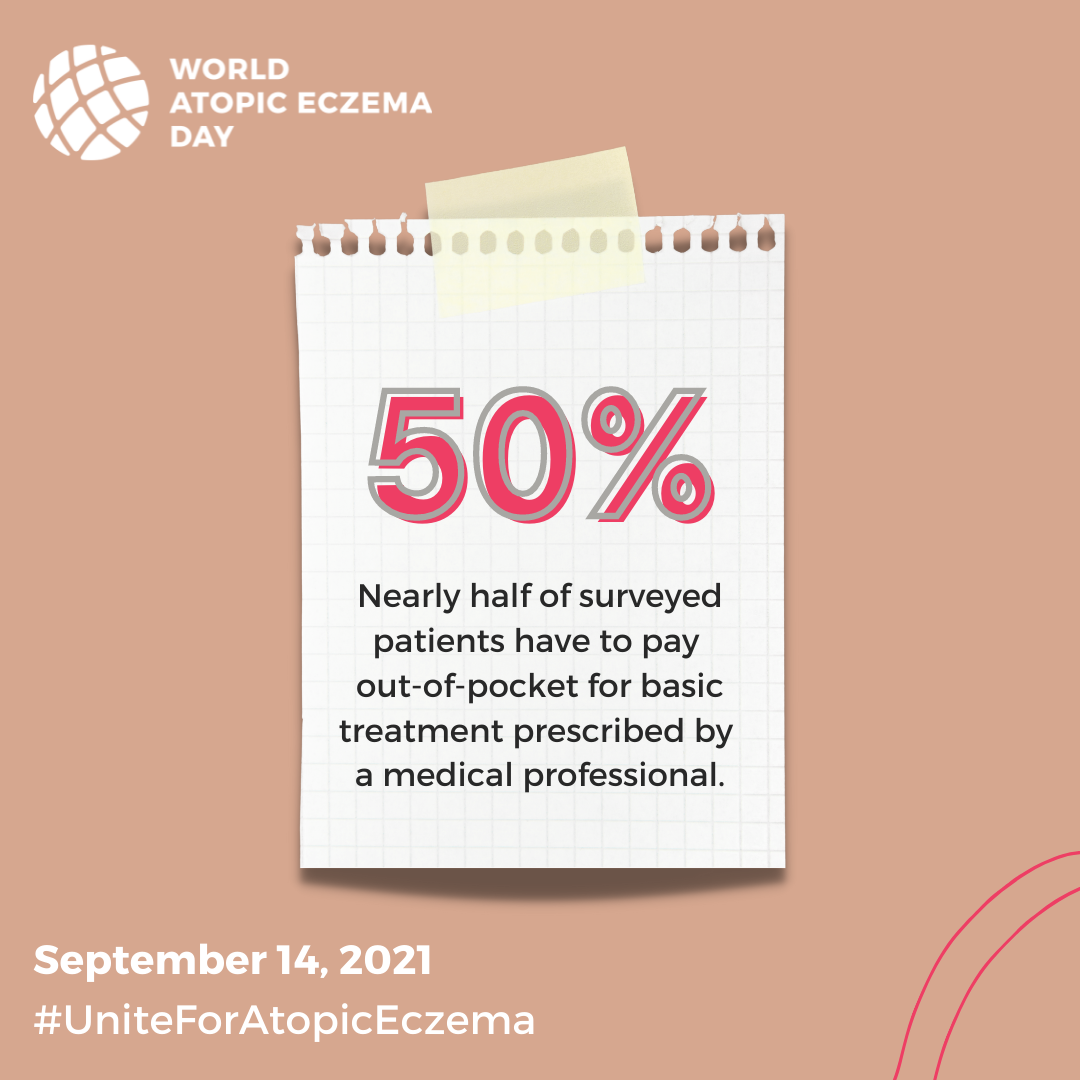 Suggested text: We need access to care for all atopic eczema patients. Even basic treatment for atopic eczema is unaffordable for too many people. #UniteForAtopicEczema #AtopicEczemaDay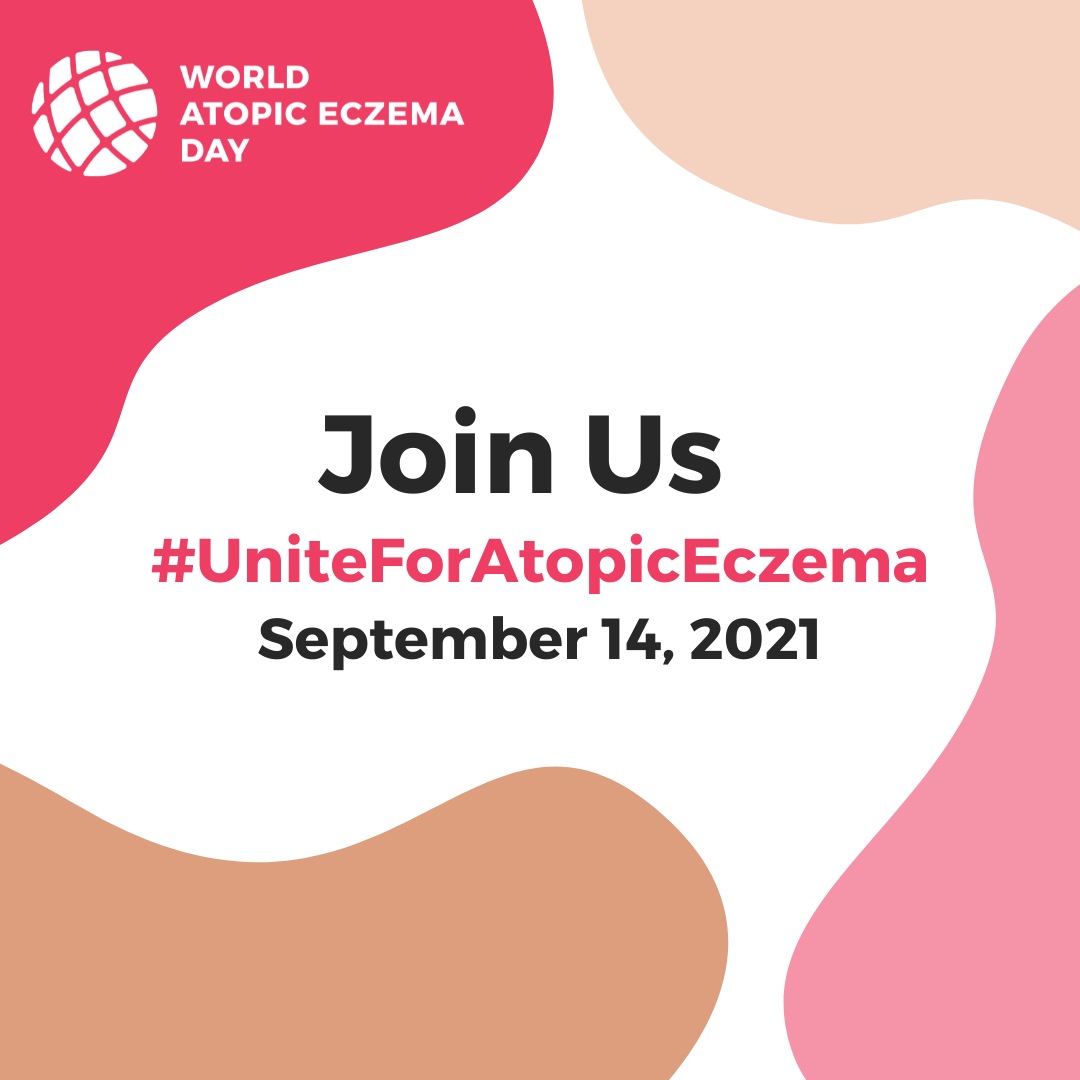 Suggested text: We support atopic eczema patients and caregivers. Connect with us. [ADD MORE INFORMATION RELEVANT TO YOUR ORGANIZATION] #UniteForAtopicEczema #AtopicEczemaDay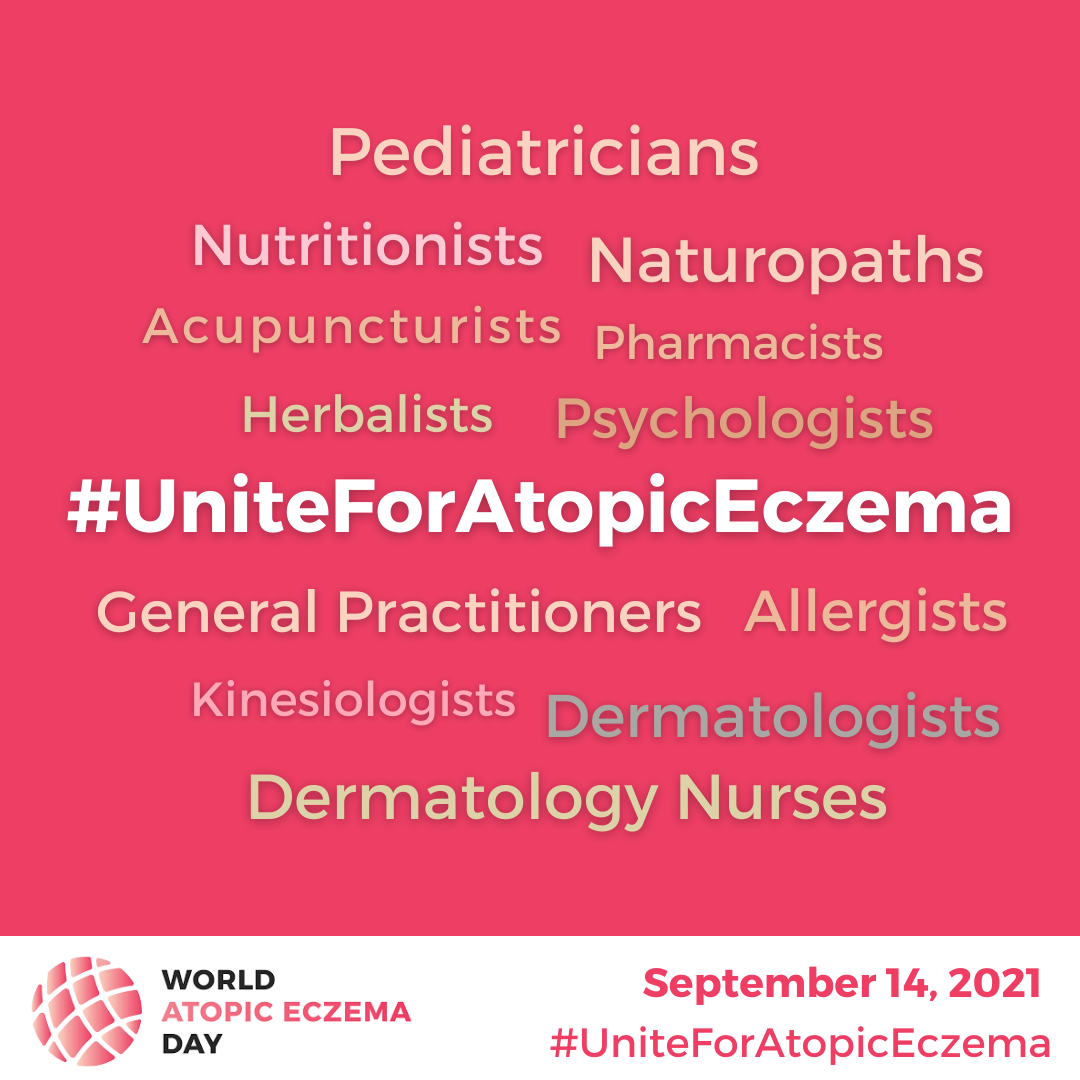 Suggested text: We need access to care for all atopic eczema patients. Even basic treatment for atopic eczema is unaffordable for too many people. #UniteForAtopicEczema #AtopicEczemaDay
Thank you to our World Atopic Eczema Day Supporters