Atopic dermatitis (AD), also called atopic eczema, is a common chronic or recurrent inflammatory skin disease and affects 15-20% of children and 1-3% of adults worldwide. Patient organizations that serve people living with Atopic Eczema, provide essential services, support, access to information, opportunities to link with other patients and speak up for access to care and treatment. This is a disease where patient organizations are currently under-resourced and not well connected to each other.

GlobalSkin began working with this global community of leaders to significantly and measurably improve capacity building and coordination of a synchronized strategic approach to improve access to care, critical information, and treatment options for patients.
If you are the leader of a patient organization that supports people with Atopic Eczema, please contact Stephanie Miller for more information about joining this community.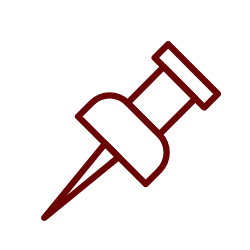 2021 Priorities
Planning is currently underway for World Atopic Eczema Day 2021 (September 14) along with GlobalSkin's World Atopic Eczema Day Fund. The Fund offers financial support to GlobalSkin's Atopic Eczema Members during their annual awareness campaign. The Fund submission period will open in June and projects will be completed in September 2021.
The Advocacy Alignment Program is a virtual meeting of patient leaders within the Atopic Eczema Community to align on an approach for engaging with key stakeholders, regional, and global policymakers. These efforts will be informed by the outcomes of the stakeholder mapping and narrative-development exercise. This program will take place during the month of October, 2021.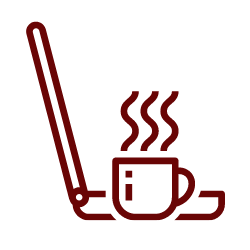 Virtual Coffee Chats
Atopic Eczema Virtual Coffee Chats continue to keep Members connected and engaged in 2021. These quarterly facilitated sessions offer opportunities for real-time discussions on topics of the day.
Meetings will occur in the months of April, July and November 2021.
If you are a member and would like to join, please email our This email address is being protected from spambots. You need JavaScript enabled to view it..
2020 Community Accomplishments
Atopic Eczema Community's 3-Year Plan
GlobalSkin's work in the Atopic Eczema Community is guided by the Three-Year Atopic Eczema Community Strategic Plan.
This plan resulted from input from our membership including our Atopic Eczema Community Advisory Committee, the IADPO Executive Committee and the Atopic Eczema Community at large.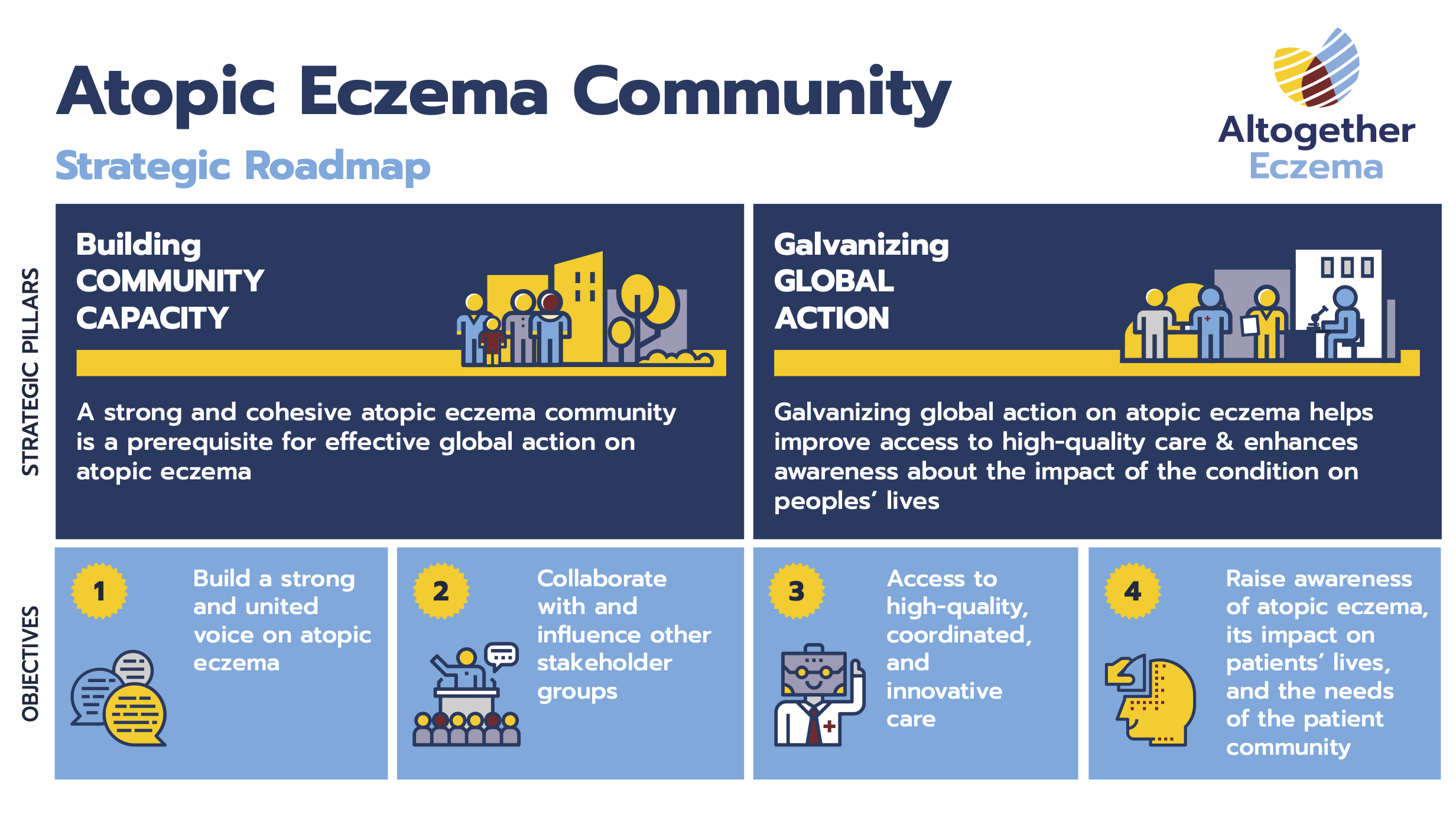 ✔️ Building Community Capacity
✔️ Galvanizing Global Action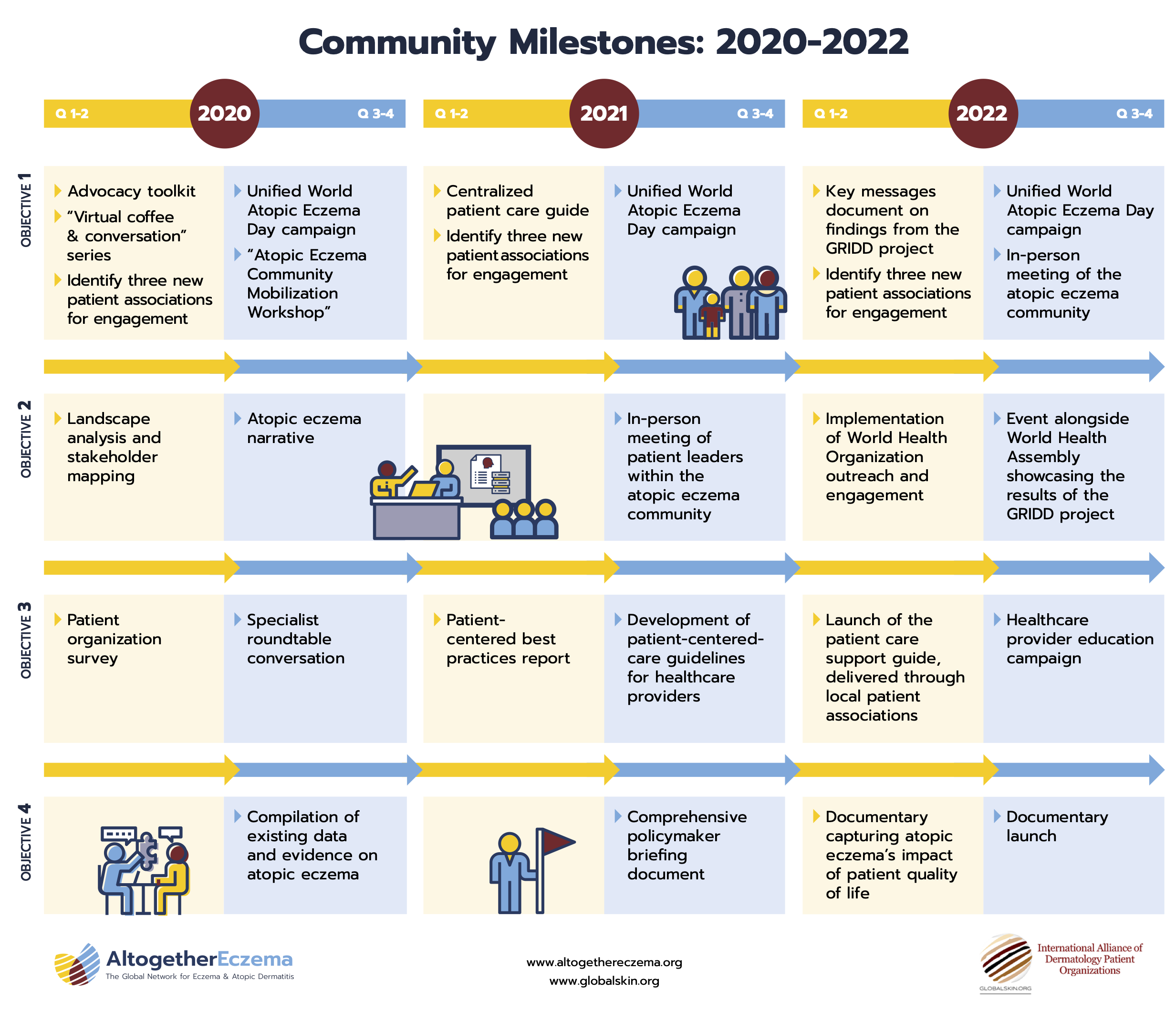 GlobalSkin has created an online platform for the Atopic Eczema Community (AltogetherEczema.org), where patients with eczema and atopic dermatitis, caregivers, and patient leaders can connect and find resources pertaining to their disease. The platform, launched in 2018, encourages visitors to take a short survey that aims to find out what it is really like to live with atopic eczema. The data will be used to help spark an international conversation on living with this skin disease and help to connect people who are suffering. Visitors can hear and share stories and discuss ways in which living with eczema and atopic dermatitis can be improved. A patient organization directory is also available that can provide patients with further support in their region.
Visit AltogetherEczema today!

World Atopic Eczema Day, an awareness day for atopic eczema, was launched by GlobalSkin and the global atopic eczema patient community in 2018.
September 14, 2020 marked the third annual World Atopic Eczema Day! Year over year, this awareness campaign has grown and brought to light to the many different aspects of this skin disease.
To learn more about past campaigns, read the reports below:
The World Atopic Eczema Day 2021 - Coming Soon
The World Atopic Eczema Day 2020

In June 2019, GlobalSkin hosted the Atopic Eczema Forum in Milan, Itlay which continued to galvenize this Community. Patient leaders participated in a 2 day event which was geared towards this specific disease area. Read more about the event and watch the event video.
Since Milan, this Community has been actively working on a variety of follow-up activities including an outcomes report; the formation of an Advisory Committee of patient organizations and the development the strategic plan.
The Community also has a dedicated online collaboration and connection space as part of GlobalSkin's Workplace which was launched following the Forum.
Atopic Eczema Advisory Committee
Cheryl Talent - Eczema Assc. of Australasia, Australia
Tonya Winders - Allergy and Asthma Network, USA
Korey Capozza - Parents for Eczema Research, USA
Spela Novak - Drustvo Atopijski Dermatitis, Slovenia
Rachel Ogola - Eczema Society of Kenya, Kenya
Tina Mesaric - Atopika, Slovenia
Lisa Butler - National Eczema Assc., USA
Melanie Funk - Eczema Support Australia, Australia
Thank you to our 2021 Partners: